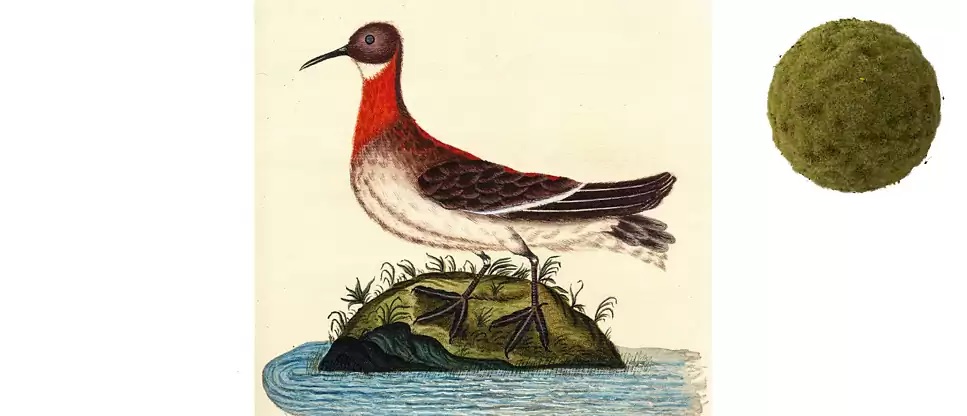 What nationality do birds have? Workshop for children.
Free two day workshop for children.
Location: Pavillion, Green house and outdoor area of the Nordic house.
THIS EVENT IS NOW FULLY BOOKED.
The Odin's chicken (Phalaropus lobatus) lives a few months in Iceland, where it breeds, but also a few months on the coast of the Saudi Arabian Peninsula or the West African coast. The Odin's chicken is characterized by a way of life that is unusual for most birds. The female, with a bold red breast patch, actively seeks out her mate and courts him in a showy courtship flight. The inconspicuous male builds the nest, incubates the eggs, and guides the young birds. So is the Odin's grouse an Icelandic bird, a European bird, or an Arabian, West African bird? How are birds nationalized?
In this two day workshop children will get to know the birds that live in the bird sanctuary around the Nordic house and their traveling route. Through conversations, field trips, drawings  and collage making the birds are investigated – while questions of borders or ownership are raised.
The workshop takes place in English, Icelandic and German. Register by sending an email with name and age of participants to hrafnhildur@nordichouse.is
This workshop happens in context of Goethe Morph* Iceland, a transcultural art initiative of the Goethe Institute together with the Nordic House Reykjavík.
About the teachers:
Ahmad Hamad is an artist, ornithologist, and bird breeder, attached to the Walther von Goethe Foundation. Born in Syria, Ahmad Hamad has lived in Germany for 6 years, where he works as a caregiver. Ahmad Hamad works with the Walther von Goethe Foundation
Wolfgang Müller, born in 1957, is an artist, musician and author from Berlin. Among his artistic projects are the House of the Deadly Doris and Walther von Goethe Foundation. Further Wolfgang Müller established the science of misunderstandings, through which he investigates the origin of misunderstandings. Wolfgang Müller is part of Walther von Goethe Foundation