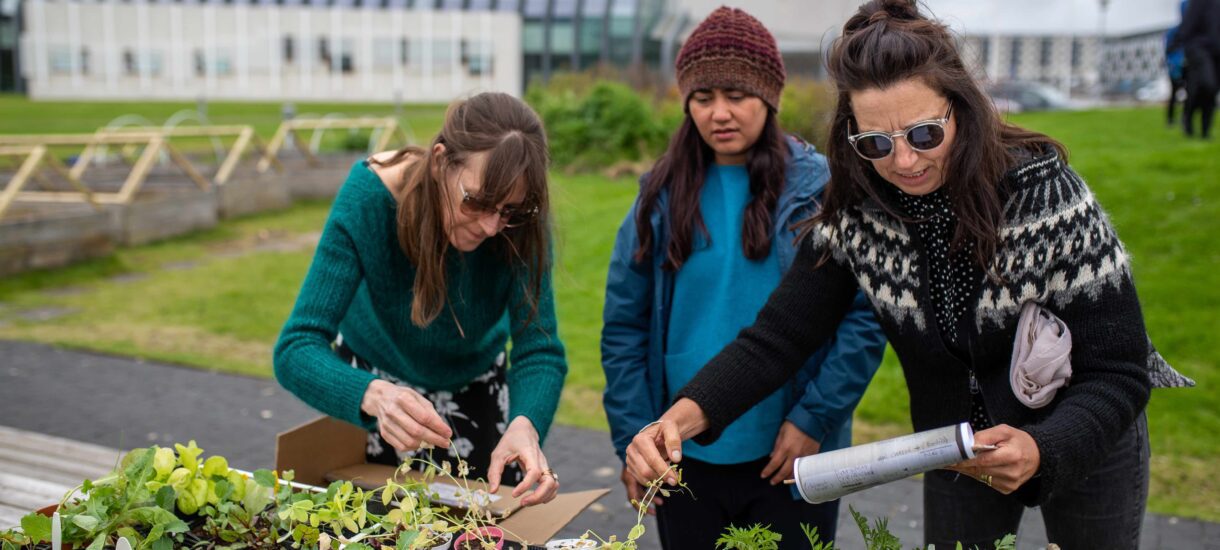 The World Garden – Green Growth in the Nordic Region
The Nordic House cultivates its garden in collaboration with the organization W.O.M.E.N. "Women Of Multicultural Ethnicity Network in Iceland" and NordGen, which is the common gene bank of the Nordic countries and a knowledge center about genetic resources that are important in agriculture and forestry.
The garden serves many purposes; it strengthens the connection with Icelandic herbs and other plants that could be useful in Icelandic conditions, and also strenghtenes social connections and network between the foreign women that cultivate it. In the greenhouse and gardening boxes W.O.M.E.N. in Iceland cultivate  seeds provided by NordGen. Visitors can observe the growth of the plants during the summer and learn more about them.
See, sow, taste!
In the summer of 2023, you can observe the educational cultivation project "See, sow, taste" in the World Garden. The project is a collaboration between the Nordic House, NordGen, the Reykjavík Botanical Garden and W.O.M.E.N. in Iceland. NordGen designed four seed and educational packages that were distributed to a number of kindergarten and elementary school classes in Reykjavík in the spring, giving the children the opportunity to sow seeds and watch them grow in their classrooms. Along the way, the children learn about the importance of biological diversity within plant species and about the four types of grain grown in the Nordic countries. This way they also gain a better understanding of where the grown food comes from and how it can be grown in the local environment. Two of these educational packages are grown by W.O.M.E.N. in Iceland in the World Garden this summer for public display.
The educational cultivation that can be seen at Norræna húsið in the summer of 2023:
1) The four different cereals
The purpose of this experiment is to learn about the four types of grain grown in the Nordic countries, explain why they are important and what they are used for.
Which species?
Wheat is a crop that you are probably eating every single day, in bread, pasta, cakes and so on. It is the most cultivated crop in the world, and also in the Nordic region. It is estimated to correspond to 15% of the world's total calory intake.
Barley is today mainly used for animal feed and brewing of beer. In historical times porridge and flatbread was made from barley.
Rye was up to the 1800s a very important crop in for example Sweden and was a staple food (rye bread and porridge). After a while wheat became more and more common. But the bread culture varies in our region and rye bread is very important in some parts of the Nordic countries, for example in Denmark and Iceland.
Oat is a crop we can find today in for example muesli, some breads, and porridges. The cultivation started as a marginal crop up to the 18th century
and then increased, mainly as feed for horses. The past decade, there has been an increase due to "new food" production such as oat beverages.
2) Same but different
The goal of this hands-on experiment is to gain knowledge about biodiversity, and more specifically, genetic diversity, highlighting why genetic diversity is so important. The design of the package, showing different varieties within the same species, wishes to give a clear picture of how genetic diversity can impact the morphology of plants.
Which species?
The package includes 4 different varieties per species.
Turnip is an unusual crop nowadays, but historically it has been important as a food, for both people and animals. It is a crop suitable for our Nordic climate. The taste is similar to beetroot, but the texture is more like radish.
Carrot is probably our most beloved root vegetable after potatoes. It actually has two origins in the wild, one with purple/ red/orange roots and one with yellow/ white roots. Until the 1500s, the carrot was violet, purple, red or black in color, but in the 1700s the orange color started to dominate more and more.
Radish is fast and easy to cultivate and is associated with spring and early summertime. In the Nordic region, it did not become a common crop until the 1800s.
W.O.M.E.N. in Iceland
The goal of W.O.M.E.N. is to unite, to express and address the interests and issues of women of foreign origin living in Iceland in order to bring about equality for them as women and as foreigners in all areas of society. Among their projects is "Women's Story Circle" which aims to create a forum for women to share their stories, be they personal or literary, giving them an opportunity to meet in an informal atmosphere in order to share their cultural backgrounds. The World Garden by the Nordic house provides such a platform for the Story Circle, where the women can meet, do gardening together and share their stories in a casual environment.
Learn more about  W.O.M.E.N. in Iceland by clicking here.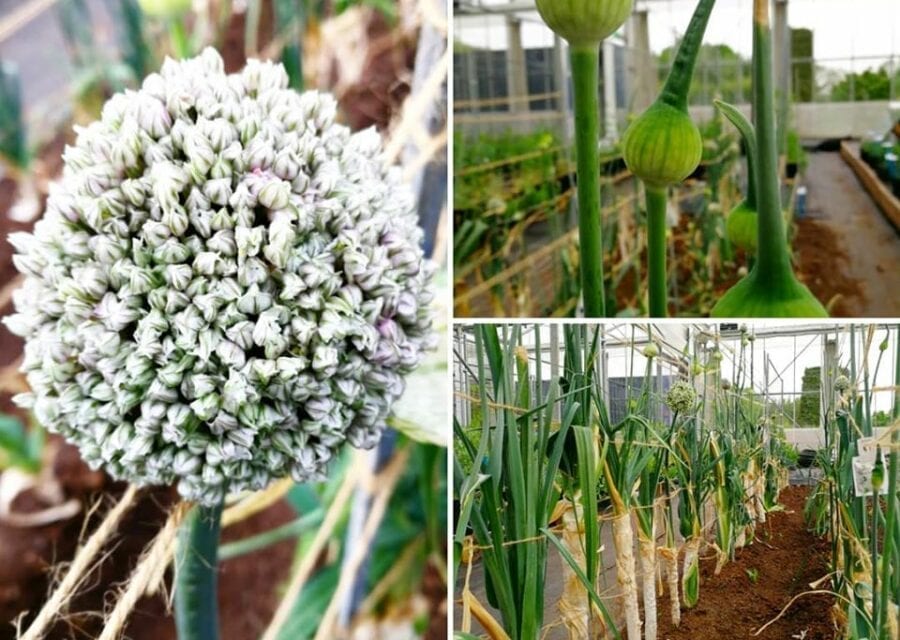 NordGen is a Nordic institution under the Nordic Council of Ministers with the aim of preserving and promoting the sustainable use of genetic resources that are important for agriculture and forestry in the Nordic countries. NordGen is a regional gene bank responsible for the Nordic seed collection containing seed samples from 33,000 plants. Here they test the seed collection, re-grow it, and replace old seeds with new ones to preserve our cultivated biological diversity. In collaboration with researchers, plant breeders, home use, outdoor museums, and others, approx. 4000 seed samples were taken in collaboration to create a sustainable society.
Are you also interested in growing Nordic varieties of houseplants? Through NordGen's gift shop, you can buy a seed packet and help preserve our cultivated biological diversity.
Read more here www.nordgen.org