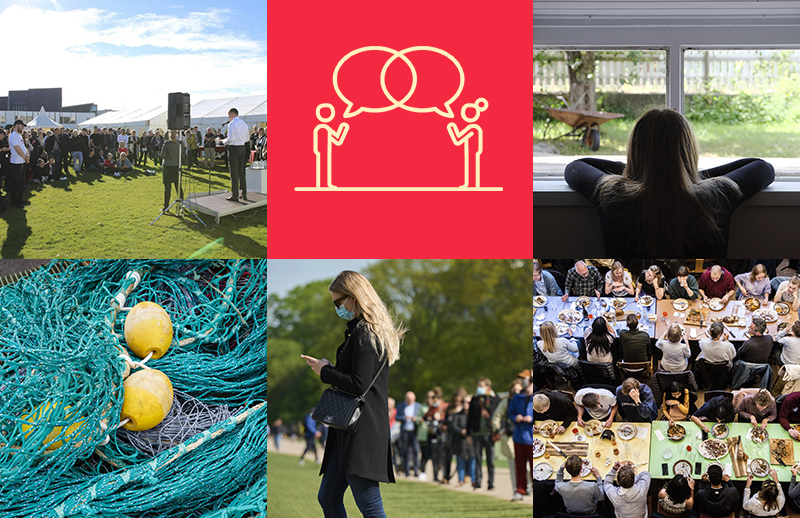 Nordic program at Fundur fólksins 2021
The Icelandic democracy festival, Fundur fólksins, takes place on 3. and 4. September in and around the Nordic House in Reykjavik. During the festival, important political and current themes are discussed and reflected in debates from a Nordic perspective with panel members from different social groups.  
On Friday the programme will be centered on children and youth, to make space for and include them in important discussions. How has the pandemic affected the well-being of children in the Nordic region? In collaboration with the Children's Ombudsman in Iceland, we will hear children discuss their experiences of restrictions and a frequently changing new normal.
Another important theme is the environment, and in connection to the festival, the nominees for the Nordic Council Environment Prize 2021 will be announced on Friday at 11:30. This year's theme for the Environment Prize is sustainable food systems and it will be presented by Iceland's Minister for the Environment, Guðmundur Ingi Guðbrandsson, and Rakel Garðarsdóttir, environment activist and member of the adjudication committee.
As a part of the launch of Fundur fólksins, a representative from the organisation Young Environment Activists (Ungir umhverfissinnar) will present findings from a survey conducted by the Nordic Council, that entails 2.200 answers from Nordic youth on
their demands to save biodiversity.
On Saturday, the challenges in the region, the Nordic cohesion and circular economy, as well as Nordic solutions that will contribute to making the Nordic region the most sustainable and integrated region in the world by 2030, will be discussed during debates. These debates are organized in collaboration with The Nordic Association, Festa – centre for sustainability, and Green by Iceland (Grænvangur). Among participants are the Nordic Cooperation Minister, Sigurður Ingi Jóhannsson, and president of the Youth Nordic Council, Aldís Mjöll Geirsdóttir, as well as interesting members from the Icelandic business sector.
Welcome to the Nordic House in Reykjavik or follow the events live via streaming on the house's website (nordichouse.is), or fundurfolksins.is and social media channels.
Events and links with more info:
Friday 3 September
Saturday 4 September