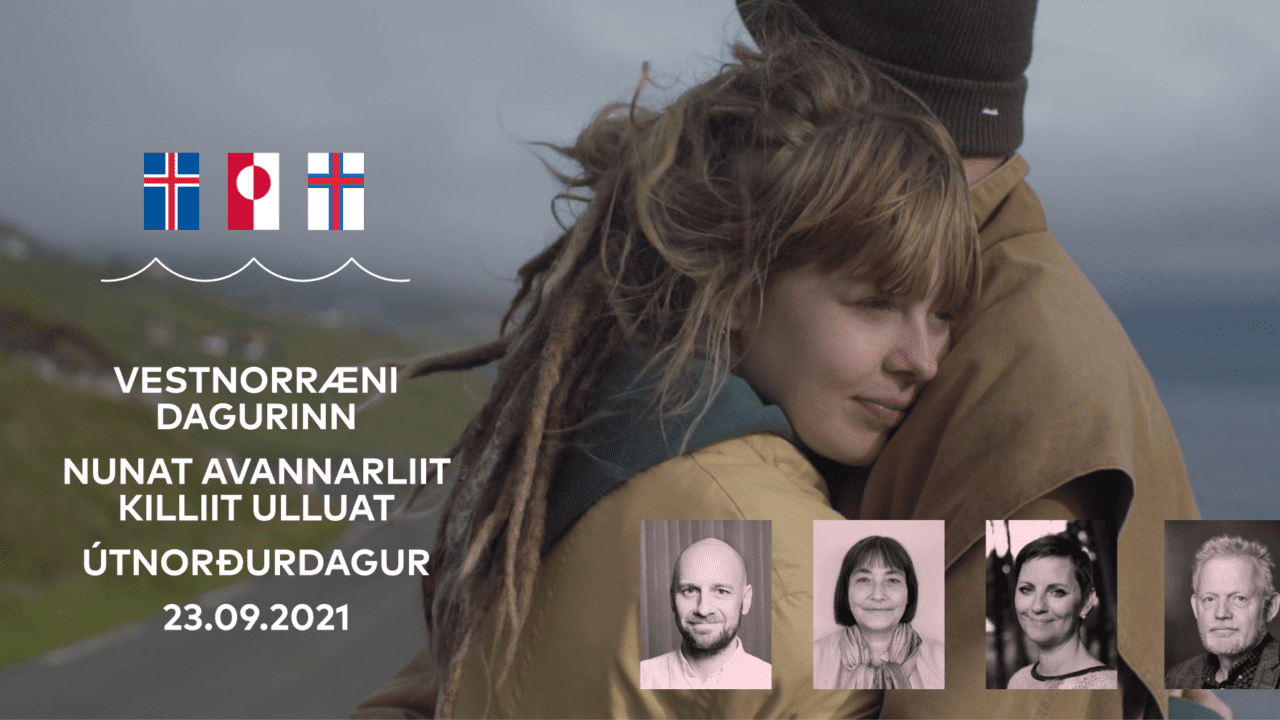 The West Nordic Day 2021 will be celebrated in the Nordic House this year with a varied and compelling program. The purpose of the West Nordic Day is to strengthen and exhibit the co-operation between the Faroe Islands, Greenland, and Iceland.
The program consists of a seminar and screening of the Faroese documentary SKÁL (2021). In the break between there is a reception with refreshments. In addition, the Greenlandic drum dancer Varna Nielsen will perform.
Program
17.00 – 18.00 Faroese and Greenlandic Perspectives on West Nordic Co-operation – Discussion (EN)
The focus in the discussion will be on West Nordic futures seen from Greenlandic and Faroese perspectives. There has been an increasing interest in the Arctic and West Nordic co-operation, not the least in Iceland, during the recent decade. What are the main challenges and opportunities in the West Nordic co-operation? What is unique about the West Nordic co-operation?
Speakers:
Ann-Sofie Nielsen Gremaud, Associate Professor, Faculty of Languages and Cultures HÍ
Sumarlidi Ísleifsson, Associate Professor, Faculty of the Humanities HÍ
Halla Nolsøe Poulsen, Official Representative of the Faroe Islands to Iceland
Tove Søvndahl Gant, Official Representative of Greenland to Iceland
Sigurður Ólafsson, Secretary General of the West Nordic Council
The seminar will be concluded with a short film about the life of high school students doing a special West Nordic study program, where they share their experiences of living in all three countries in the region.  
18.00  Reception with refreshments
18.20  Performance by Greenlandic Drum Dancer Varna Nielsen
18.30  SKÁL (2021) – Film screening
Read more about the movie here
19.50  Q & A with the protagonists of the film – Dania O. Tausen & Trygvi Danielsen
The Nordic House library offers a range of books and artworks by Faroese and Greenlandic artists available for lending, which will be given special focus this day.
In our exhibition hall Hvelfing, in the basement, you will find the newly opened exhibition TIME MATTER REMAINS TROUBLE, where Icelandic Bjarki Bragason and Anna Rún Tryggvadóttir among other Nordic artists are exhibiting their art.
The Nordic House coordinates the program for the West Nordic Day in collaboration with:
Vigdís Finnbogadóttir Institute for Foreign Languages, University of Iceland
The Representation of the Faroe Islands in Reykjavik
The Representation of Greenland in Reykjavik
Ministry of Education and Culture, Iceland
The West Nordic Council
The Norden Association Iceland
About the West Nordic day
The West Nordic Day is held on September 23rd every year to increase the cooperation and strengthen the sense of closeness between the three neighbouring countries, The Faroe Islands, Greenland, and Iceland.  The winter equinox was chosen as the date for the marking of the West Nordic history and culture in the West Nordic countries. The agreement on this West Nordic cultural cooperation is managed by the cultural ministries in the Faroe Islands, Greenland, and Iceland. Today the West Nordic Day is celebrated in all three countries simultaneously.