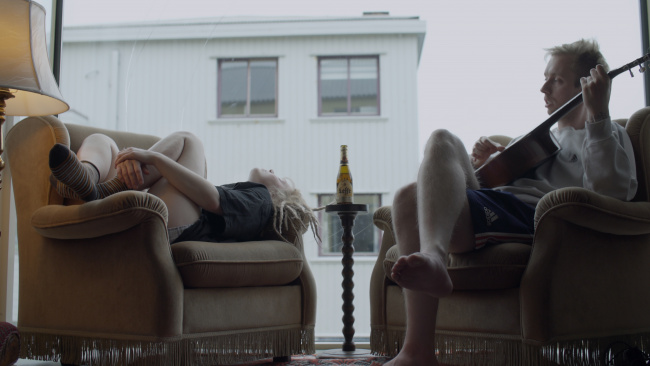 SKÁL (2021) – Film screening
– cheers to feeling dirty each time the sun rises – 
A part of our event in the Nordic House on the West Nordic day we will be screening Faroese movie Skál (2021). Free admission, seats based on first come, first get.
The West Nordic Day is held on September 23rd every year to increase the cooperation and strengthen the sense of closeness between the three neighbouring countries, The Faroe Islands, Greenland, and Iceland. Read more here
Following the film screening, the protagonists Dania O. Tausen and Trygvi Danielsen will be available for a Q&A session to answer questions from the audience.
Join us to our seminar prior to the film screening Greenlandic and Faroese and Perspectives on West Nordic Co-operation
17.00 – 18.00 Faroese and Greenlandic Perspectives on West Nordic Co-operation  – Debate (in English)
Read more about the seminar here
18.00  Reception with refreshments

18.20 Greenlandic drum dance
Plot
Dania is 21 years old and grew up in a Christian community in the Faroe Islands' Bible belt. She has just moved to Tórshavn and is seeing Trygvi, a hip-hop artist and poet locally known as Silvurdrongur (Silver Kid). He comes from a secular family and writes poems and texts about the shadow sides of humanity. Dania herself sings in a Christian band but is fascinated by Trygvi's courage to write brutally honest lyrics. As she tries to find her place in the world and understand herself, she starts to write more personal texts. Her writings develop into a collection of critical poems called 'Skál' ('Cheers'), about the double life that she and other youths must live in the conservative Christian world.
Length: 75min
Cast: Dania O. Tausen, Trygvi Danielsen, Marjun Drós Tausen Poulsen
Director: Cecilie Debell & Maria Tórgarð
Producer: Heidi Kim Andersen
Co-Producer: Jón Hammer, Kykmyndir
Cinematographer: Cecilie Debell, Troels Rasmus Jensen, Rógvi Rasmussen, Maria Tórgarð
Editor: Rebekka Lønqvist
Sound: Kasper Janus Rasmussen & Jacques Pedersen
Music: Ólavur Jákupsson
Graphics: Rasmus Lange
In Co-Production with: NORDDOK – Film om Grønland, Færøerne og Danmark – Det Danske Filminstitut, DR, VGTV, SVT, KNR og KVF.