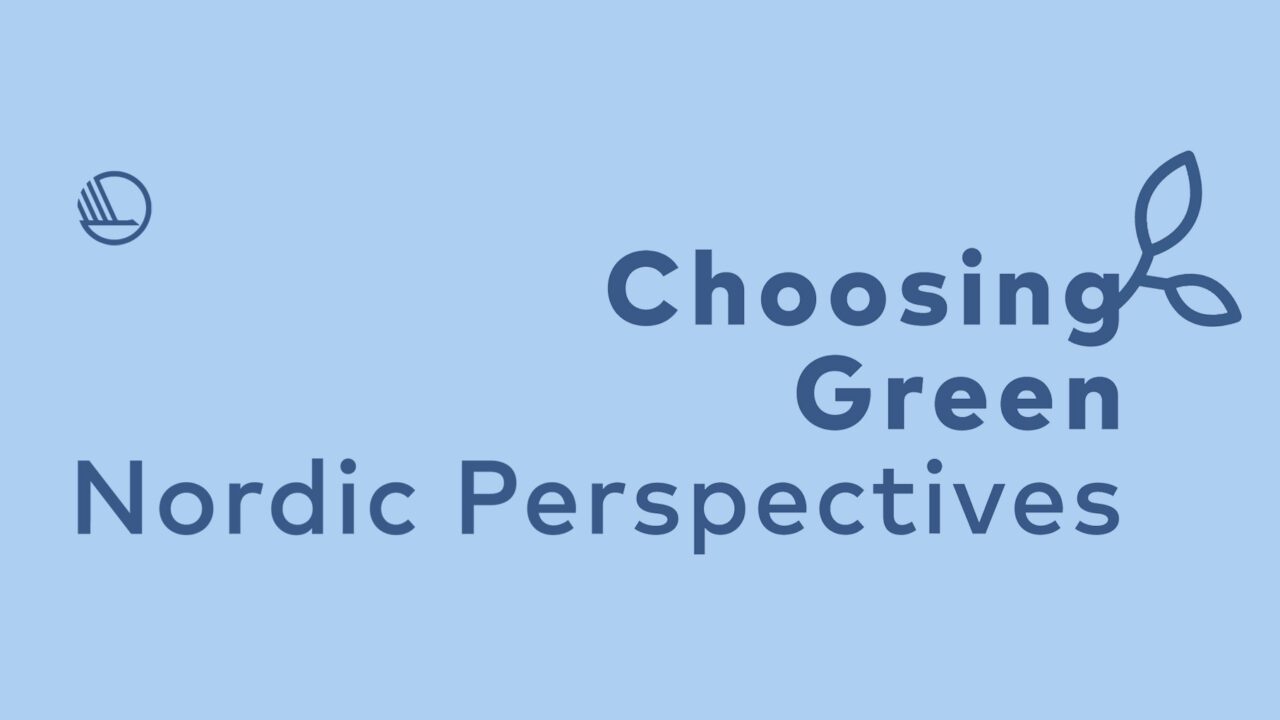 3 events with green Focus – Nordic Perspectives on #ChoosingGreen
In connection to COP26, UN Conference on Climate Change, in Glasgow, we have organized an exciting program on the 11th of November around the theme of the environment, climate, and sustainability, with a significant focus on the latter.
Sustainable consumption and production is a big challenge in the Nordic region. How can we pay attention to the environment and develop new habits in order to protect our nature and climate? The 11th of November has widely become known as Singles' day, a global day of shopping, when shops offer a plethora of offers and discounts, which encourage people to discretionary purchases and overconsumption. With this day we perceive an opportunity to evaluate and contemplate our expenditures and climate footprint together.
During our lunch program we will connect you with the Nordic COP26 Hubs in Helsinki and Glasgow, from where we can hear about the interesting ongoing discussions about the climate, through our young keynote listeners on-site. We have also invited an interesting panel, consisting of members from the Icelandic business sector, to talk about consumption, as well as innovative and sustainable solutions that we can apply to our daily lives, regarding food, fashion and transport. Join us and enjoy a thought-provoking lunch with us at the Nordic House.
Later in the day, we encourage everyone to attend, experience and participate in a live dialogue, part of an event trilogy Synthesizing Sustainability that the Nordic House organizes together with the Institute for Sustainability Studies at the University of Iceland during October and November. In line with the theme of the day, the role of the creative industries in raising awareness of sustainability and our environmental impact will be contemplated; How is the environmental impact reflected in our contemporary stories? How are stories and communication intertwined with consumer culture and values?
After the discussion, there is an opportunity for mingling and to enjoy refreshments from SONO before the evening concludes with a screening of the documentary The Recycling Myth, which is a part of the research project Why Plastic? by the WHY foundation. The film is screened in collaboration with the organization SEEDS and the Nordic House.
Agenda
12:00 – 13:30 Singles' Day Lunch – Sustainable lifestyles & Youth at COP26 – in Icelandic except a broadcasted discussion from COP26 in Glasgow at 13:15-13:30
16:00 – 18:00 Synthesizing Sustainability – in Icelandic
18:00 – 18:30 Reception with refreshments
18:30 – 20:00 WHY PLASTIC? – The Recycling Myth, documentary screening & panel discussion – in English
We warmly welcome you in the Nordic House on the 11th of November. If you are not able to join us in person, you can follow the live-stream of the lunch event and Synthesizing Sustainability in our social channels or on our website!
Read more about the Singles' Day lunch event here
Read more about the Nordic COP 26 Hub here
Access to live-broadcasted Nordic events on COP26 here.
Read more about Synthesizing Sustainability
Read more about WHY PLASTIC?