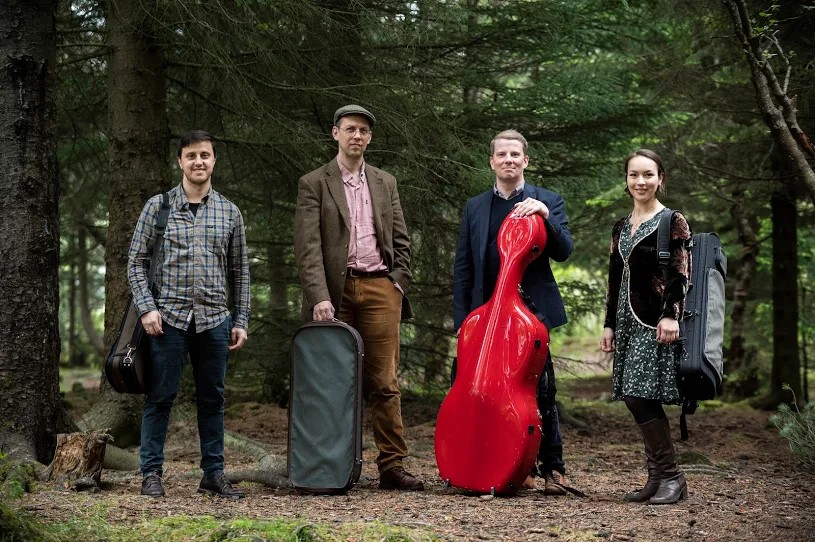 Kordo plays Mozart and Haydn at St. John's Day
The Kordo quartet will hold a concert in the Nordic House at Jónsmessa on Thursday 24 June at 21. The repertoire includes two string quartets, both in D minor by two of the masters of music history, Wolfgang Amadeus Mozart and Franz Joseph Haydn. Mozart's Quartet, no. 15 op. 421 is a series of quartets dedicated to Haydn and is believed to have been composed in 1783. Haydn's Quartet in D minor Op. 76 no.2, often referred to as the "Fifth Quartet", is a bit younger, composed in 1797 or 98 and belongs to a series of quartets that he dedicated to the Hungarian Count Erdödy. The concert is therefore a unique opportunity to hear string quartets by these two friends and geniuses, one after the other.
The concert is about an hour long.
The Kordo Quartet was founded in late summer 2018 and held its first concert in Harpa's Norðurljós Hall in February 2019. The concert was highly praised by critics who said the quartet was one of the leading chamber ensembles in the country. Kordo has performed in the Reykjavík Classics concert series in Harpa and in the spring of 2020 he held a net concert in the Culture Clock on behalf of the culture houses in Kópavogur, but the quartet's concert that was supposed to be in the Tíbrár series was canceled due to Covid-19. The group performed in the Tíbrár series with the bandoneon player Olivier Manoury last March on the occasion of the 100th anniversary of the birth of the Argentine tango master Astors Piazzolla, and recently performed in the newly established Chamber Club of Language and Culture Bookstores. The Kordo quartet will hold their first concert tour in November next year to Spain, where the quartet will hold six concerts.
The kordo quartet consists of violinists Páll Palomares and Vera Panitch, viola player Þórarinn Már Baldursson and cellist Hrafnkell Orri Egilsson. They are all members of the Iceland Symphony Orchestra. Vera is now the band's 2nd concertmaster and Páll is the conductor of the 2nd violin. Þórarinn and Hrafnkell have both held temporary positions as deputy leaders in recent years.
Ticket price ISK 2,500, ISK 2,000 for students and pensioners. Admission free for children 12 years and younger.