R.E.C Arts Reykjavík during Children´s Culture Festival 2023 at the Nordic house Reykjavík.
Artist-Activist Collective R.E.C Arts Reykjavík, in collaboration with The Nordic House, proposes a project which seeks to provide an artistic platform for teens of minority backgrounds and communities (as well as other teens interested), ages 13-17.
This cumulative program invites a group of students from multiple schools to join us for a twice-monthly workshop series. This series will include artistic exercises guided by us and guest instructors from our collective. Using communal discussions and different formats of storytelling (theatre, music, dance, writing, etc), young people will be encouraged and empowered to have a voice and place in society. The workshops will encourage elaborating on skills that the students already have or would like to pursue.
Each of these workshops will be 3 hours long, two times a month (feb-april) with the end goal to produce a "showcase" performance presentation during the Children's Culture Festival in the spring of 2023. The main themes we will be working with are: Identity, Community and Empowerment. This showcase will also aim to educate those from more privileged backgrounds on the important cultural changes that are currently happening in Icelandic society.
The founders of R.E.C Arts Reykjavík would like to introduce the project in January 2023, to schools that are interested in bringing it forth.  For those who would like to learn more or receive an introduction of the project in person please write to hrafnhildur@nordichouse.is or recartsrvk@gmail.com. 
Who are we and why are we doing this?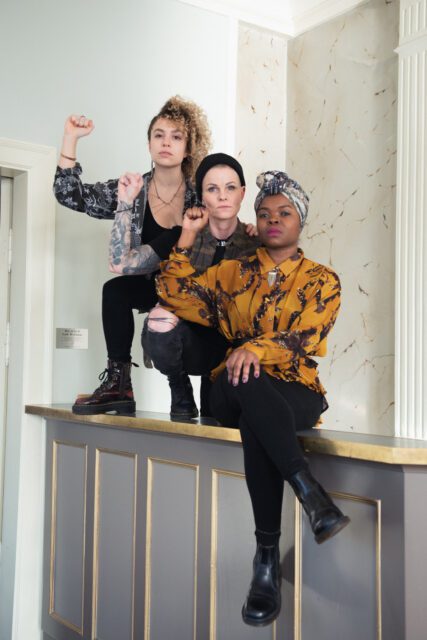 R.E.C Arts Reykjavík was established in late 2021 by Rebecca Hidalgo, Eva Björk and Chaiwe Sól Drífudóttir. It was begun with the aim to bring diversity, visibility and representation to the mainstream arts scene in Iceland through equity, access and education. They are a recognized Non-Governmental Organization, and have worked both independently and in collaboration with organizations such as: The Reykjavík Arts Festival, Amnesty International, Reykjavík Feminist Film Festival, Antirasistarnir, Reykjavík Pride, and others.
R.E.C Arts Reykjavík has worked with both adults and youth, hosting workshops which bring individuals from different minorities together (and those whose identities may intersect multiple marginalized communities). They are known for creating a space of learning, growth, empathy and understanding; building confidence in each individual they work with; and providing a safe community for self expression and education.
The Icelandic arts and arts education institutions are undoubtedly very exclusive spaces; only the privileged and well-connected seem to be able to thrive in the arts in this country. Representation of People of Color, Queer people, Disabled folks, Immigrants and Refugees are few and far between.
We at R.E.C Arts Reykjavík have begun tackling this issue by looking at the root of it: the "higher ups" in these institutions are almost never individuals from marginalized communities. Therefore, no matter how much they claim that "all are invited", the institution is not inherently inviting. The actual "invitation" is seeing people like yourself running those institutions and giving space to people like you.
We, the founders of R.E.C Arts Reykjavík, all intersect multiple identities of both marginalization and privilege living in Icelandic society. Our motto is "Representation Matters"—and representation is extremely important for young people to feel a sense of purpose, belonging and agency in the world and their societies. Whether or not these youth have a desire to pursue the arts professionally, they should be offered an opportunity to explore the arts and cultivate their creativity in an environment amongst those like them.
The plan is to create a place where everybody belongs in their own authentic way; and more-so, they know that they are an important part of a community.
www.instagram.com/recartsrvk
www.facebook.com/recartsrvk
https://drive.google.com/file/d/1LuTQZqWNOgUoV8qHnrxRW-MLZwWXMLTK/view