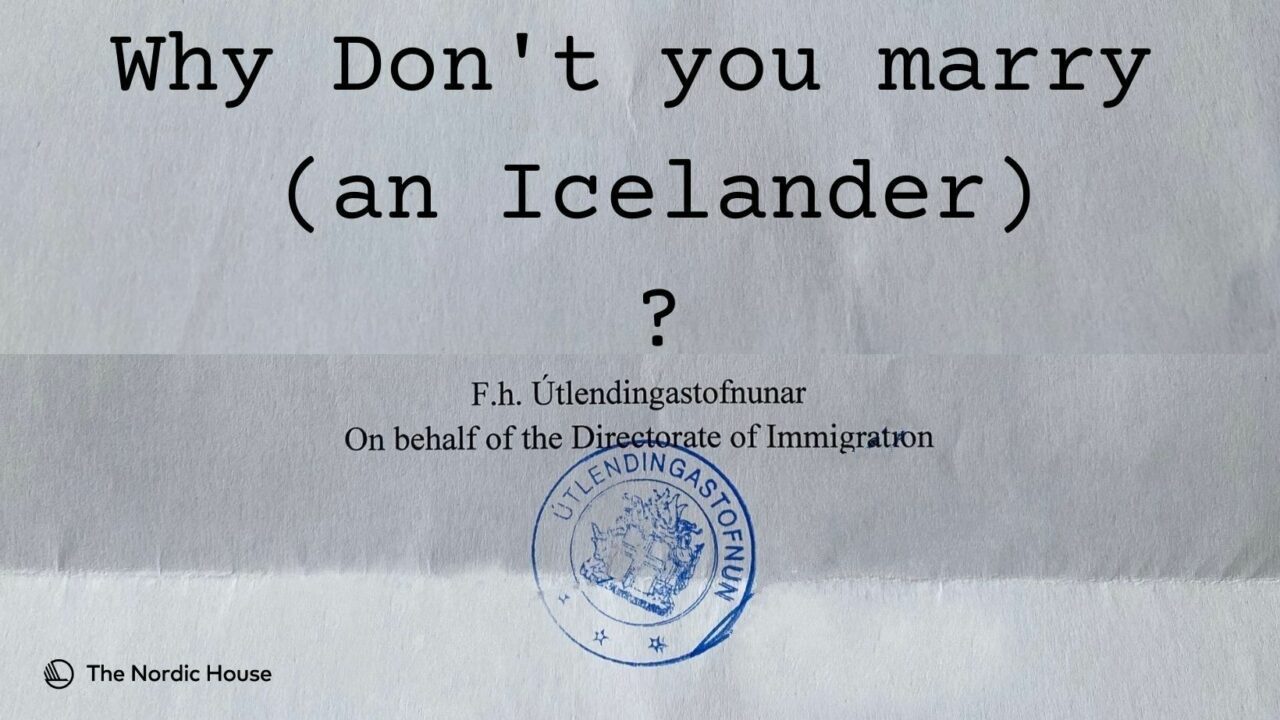 Why don't you just marry (an Icelander)? – Chapter 1.
"Why don't you marry an Icelander?" has become a pervasive response when non-EU citizens recount their troubles navigating the immigration system during studies, post-graduation or when working in Iceland. This ironic question sheds light on the difficulty of attaining a work permit for an independent cultural worker. Working freelance, as most artists do, makes the process of gaining this permit extremely hard and impossible for many.
The Nordic House is happy to introduce the first panel discussions for the ongoing conversation of cultural work created by immigrants in Iceland. Celebrating innovative engagements, inclusivity and diversity under an umbrella of sustainable communities and cities.
This event will be held in English.
Please be aware that seating spaces are limited in our Auditorium.
Watch LIVESTREAM
We want to open the ubiquitous meaning of cultural work in Iceland, address the need for an artist visa in Iceland, the value of international education programs, the value of immigrant labor in the cultural sphere, systemic racism, and xenophobia at an institutional level.
We will ask important questions such as how can the ministry of Culture & Business affairs, Ministry of Social Affairs & labor and cultural institutions collaborate toward a more equal work environment for non-EU cultural workers?
This event is part of a new program that The Nordic House is implementing, led by curator Elham Fakouri we are focusing on diversity and inclusion in the Icelandic art and cultural scene. Through our events, we will concentrate on various aspects of diversity, including cultural, racial, and gender diversity and gain knowledge of how cultural convergence happens through art.
This panel discussion is hosted in collaboration with AIVAG (Artists in Iceland Visa Action Group).
After the panel discussion we invite guests to enjoy further discussions with us and refreshments by SÓNÓ.
–
Moderator:
Dr. Magnús Skjöld: Associate Professor, Bifröst University
Panelists:
Clare Aimée: artist, former student of Iceland University of the Arts (fine arts department).
Fríða Björk Ingvarsdóttir: the rector of Iceland University of the Arts.
Claudia Ashanie Wilson: Lawyer
Hugo Lanes: artist, representative from AIVAG, and former student of Iceland University of the Arts (fine arts department).
José Luis Anderson: artist, current student of Iceland University of the Arts (music department).
Patricia Carolina: artist, representative from Verdensromme (a network for immigrant artists based in Norway), and former student of Iceland University of the Arts (fine arts department).
(The names are in alphabetical order).