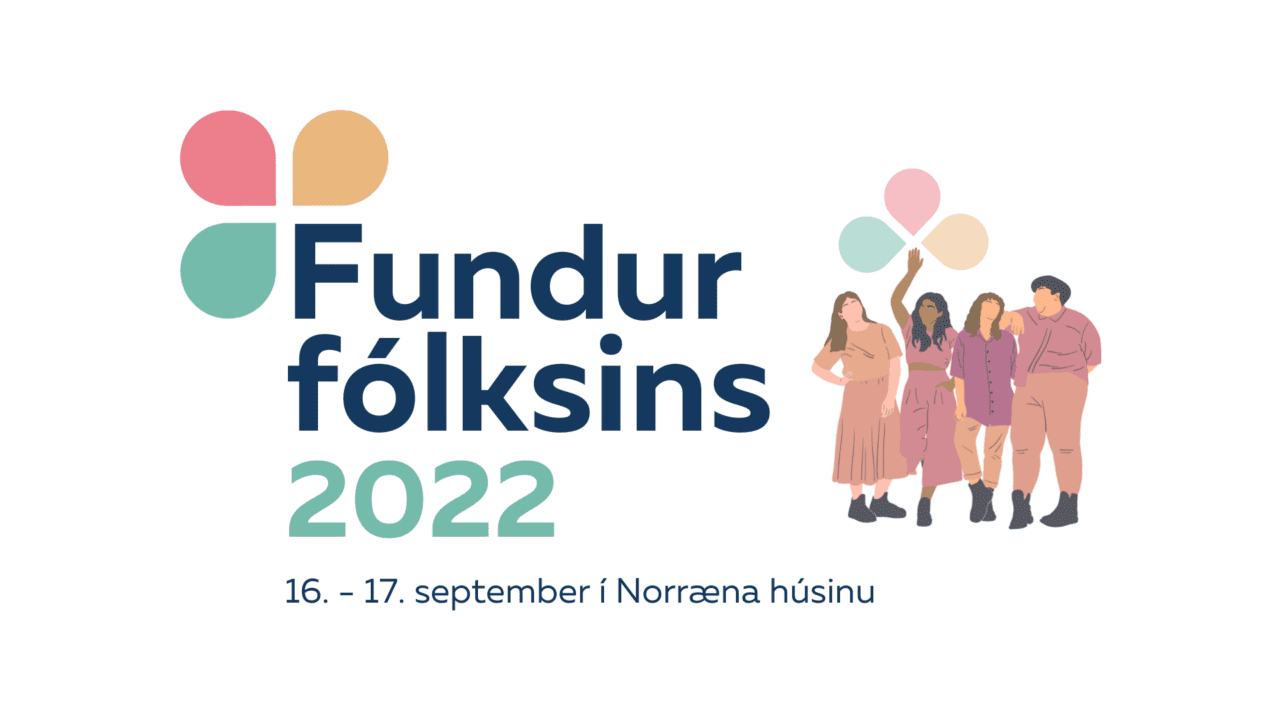 The Democracy Festival: The People's Meeting 2022
Auditorium,
Atrium,
Greenhouse,
Boardwalk &
Pavilion
Free entry
See the program from the Nordic House here below: 
The purpose of The People's Meeting is to create a high-quality platform that invites dialogue between the public, politicians and non-governmental organizations, where democracy and an open exchange of views are the guiding principles.
The aim of the meeting is to create more trust and understanding between the different members of society without being stuck in the routine debates of politics and the media.
The People's Meeting is an independent festival and not connected to any interest groups in Iceland or elsewhere.
The democracy festival The People's Meeting was first held in the Nordic House in June 2015 following the example of other Nordic countries, which have held similar meetings; in Borgundarholm (Denmark), in Arendal (Norway) and in Almedalen (Sweden). The visitors to these meetings in the neighboring countries usually number in the tens of thousands, and there is an extremely extensive participation of non-governmental organizations, institutions, politicians and media people, companies as well as ordinary citizens.
The People's Meeting 2022 will take place in the Nordic House and at Gróska in Reykjavík.
Program at the Nordic house
16th September
9:30 am – 12:30 pm
From soil and sea to table: A hands on look at sustainable local food
Nordic Sustainability Communicators together with Nordic House in Iceland invites you to join a masterclass on local and sustainable food. Together with experts and chefs we will learn about the edible food in our meadows and beaches and learn how to cook filling and tasty meals that at the same time is climate friendly.
We will walk out in nature, gathering the food ourselves and then we will cook and eat together. During the event you will also learn about the Good Life Goals; actions that we all can do in our everyday life, in order to reach the UN Sustainable Development Goals.
Target group:
Youth at the age of 15-17 years
The hosts:
The event is created and hosted by the Nordic Sustainability Communicators, a cross Nordic group that wish to create awareness about the Good Life Goals and sustainable lifestyle in the Nordic Region.
The program:
09:30 – We meet at the Nordic House Iceland
09:45 – Introduction to the Good Life Goals and the hosts
10:00 – Foraging/harvesting by Silla, chef from Nordic House Iceland (focus on seeds, roots and berries)
10:45 – Introduction to seaweed and tasting
11:15 – Cooking
12:00 – Lunch
12:30 – Goodbye and thank you
16th September
1 pm – 1:40 pm
Seeds for the future: How and what do we cultivate in a changing climate?
This seminar will be held in English and is a part of the programme of Fundur fólksins. It will also be LIVE-streamed here: https://vimeo.com/event/2420266
The COVID-19 pandemic, and the War in Ukraine, have laid bare the vulnerability of Nordic food systems. But even more so, the looming climate crisis poses major food security challenges.
A key aspect in the transition towards more sustainable and resilient food systems is to increase the domestic consumption and production of vegetables and grains. The climate crisis, however, poses both threats and new possibilities for agriculture.
How do we adapt cultivation to a warming climate, and are there opportunities to expand production and introduce new types of crops in high latitudes? The topic is particularly pertinent in Iceland, an island which is heavily reliant upon imported food.
Icelandic agriculture is currently able to provide around 43% of the vegetables and 1% of the grains consumed locally. It could, however, become possible grow previously unimaginable crops in high latitudes. What does this mean for Iceland, and even the Arctic region?
Michael Lyngkjær, Plant Senior Scientist at The Nordic Genetic Resource Center (NordGen), will give a keynote speech on the projects of NordGen which are focused on promoting sustainability and climate-resilience within agriculture.
Guðrún Sóley Gestsdóttir will moderate the discussions.
Panel:
– Daði Már Kristófersson, Professor of Economics and Dean of the School of Social Sciences at HI
– Michael Lyngkjær, Plant Senior Scientist at NordGen
– Hrönn Ólína Jörundsdóttir, Director General at Icelandic Food and Veterinary Authority
– Nicholas Ian Robinson, organic farmer and Phd candidate in Geography
16th September
2 pm – 2:40 pm
Nordic climate action: Are we doing this together?
This seminar will be held in English and is a part of the programme of Fundur fólksins. It will also be LIVE-streamed here: https://vimeo.com/event/2420283
The Nordic countries have the collective ambition to become the most sustainable region in the world by 2030. Much has been achieved, but the road towards a green transition is still paved with major challenges.
At present, the Nordic countries have differing climate strategies and targets. While Norway and Iceland aim for a 55% reduction in emissions (compared to 1990) by 2030, Denmark intends to cut emissions by 70%. However, a study from 2021 revealed that the younger generations want increased Nordic cooperation on climate and environmental issues.
Would collective Nordic climate policies make the goal of a sustainable Nordic region more attainable? And how do we ensure that the perspectives of children and youth, who will bear the brunt of climate change, are reflected in policymaking?
Keynote: Bryndís Haraldsdóttir, Chairman of the Icelandic delegation to the Nordic Council
Panel:
– Tinna Hallgrímsdóttir, Chair of the Icelandic Youth Environmentalists Association
– Eva Dögg Davíðsdóttir, Nordic Youth Council
– Hugi Ólafsson, Director of Department of Policy Coordination and International Affairs at the Ministry of the Environment, Energy and Climate
– Bryndís Haraldsdóttir, Chairman of the Icelandic delegation to the Nordic Council
Gunnar Dofri Ólafsson will moderate the discussion.
16th September
4 pm – 4:40 pm
Food Justice and Democracy: An Afro-Futuristic Perspective
Take note that this seminar will be held in the lecture hall in Gróska. The seminar will be in english.
What is food justice and why is it significant to democracy? During Fundur fólksins, the Icelandic democracy festival, Njathi Kabui, also known as Chef Kabui, will give a lecture on the subject.
Njathi Kabui is an eclectic Chef with a passion in Food Justice, a Leading expert in Food Literacy, a Medical Anthropologist and an Organic farmer. He is actively involved in promoting Food Literacy as a public speaker, a blogger, an author and a social commentator. Chef Kabui considers himself as an organic chef, who has intentionally designed his own disruptive cuisine. He calls this cuisine, "Afro Futuristic Conscious Cuisine" which promotes a mix of indigenous and healthy foods for the sake of sovereignty, health and food justice. Chef Kabui makes a case that the best of African food is in the future.
Chef Kabui is committed towards steering a paradigm shift through Food Literacy in his network of Chefs, Writers and Activists and interested persons from all over the globe. He also works keenly with marginalized groups and communities in an effort to empower them on food issues/choices. He believes in change through action, and this is evident in his local community, in North Carolina where he practices urban organic farming, and in Kenya, his country of origin, whereby he has set up a Food Literacy and Sustainability Center (Folsuc) in Naivasha. The Center aims at promoting Agro-Ecological farming, Cookery, Futuristic Kitchen, Food Library, Content creation and a seed bank. The demo farm at the center is growing seeds that have been shared with other sustainable farms that chef Kabui is collaborating with in the American South and beyond. He is also an avid Biodiversity supporter through his initiatives in planting indigenous trees to salvage a threatened ecosystem thus promoting sustainable farming practices in Kenya.
The seminar will be moderated by Guðrún Sóley Gestsdóttir, cultural journalist, author and food enthusiast.

17th September
1 pm – 1:40 pm
In line with nature: The benefits of nature-based solutions in urban settings
This seminar will be held in Icelandic and is a part of the programme of Fundur fólksins. It will also be LIVE-streamed here: https://vimeo.com/event/2420289
Nature-based solutions are becoming recognized as key to strengthening resilience through mitigation and adaptation to an increasingly changing climate. Urban environments and infrastructures are vulnerable to extreme weather events such as flooding and hurricanes.
At the same time, urban environments often impact the environment negatively and cause phenomena such as heat islands, cause pollution, and loss of biodiversity. How can we reduce these negative impacts and create urban spaces that work with nature instead of against it?
The seminar provides two talks on blue-green solutions in urban settings, followed by a panel discussions with representatives from Reykjavík municipality, the health sector, and a self-initiated local NGO.
The seminar is hosted in collaboration with the Institute for Sustainability Studies at the University of Iceland, and is a part of the event series In Line with Nature: Nature-based solutions and their effects in a wider context.
This year, nature-based solutions is the theme of the Nordic Council Environment Prize and the aim with the event series is to shed light on nature-based solutions and how they are being implemented in the Nordic Countries.
17th September
2 pm – 2:40 pm
The climate villain goes green: The role of the construction industry
Break the barriers in the construction of sustainable and climate-friendly buildings of the future.
The challenges in the construction industry are obvious: Our built environment is responsible for 40% of global carbon emissions.
During the global transition to net-zero, the industry needs to radically reduce the amount of carbon emitted from new construction, infrastructure and buildings while the industry is expected to grow 42% by 2030, driven largely by the demand for residential construction. The good news is that we know many of the solutions already, and something can be done about it!
We will examine how we can start transforming words, knowledge, and technical solutions into action. With inspiration from a transformation panel we will discuss the barriers and levers in the Nordic region that can spark cultural change and drive the necessary shift towards sustainable and circular construction that will form the carbon-neutral welfare society of the future.
The event is organised by SUSTAINORDIC – Sustainable Construction Materials and Architecture, which is part of the Nordic Council of Ministers initiative, Nordic Sustainable Construction.