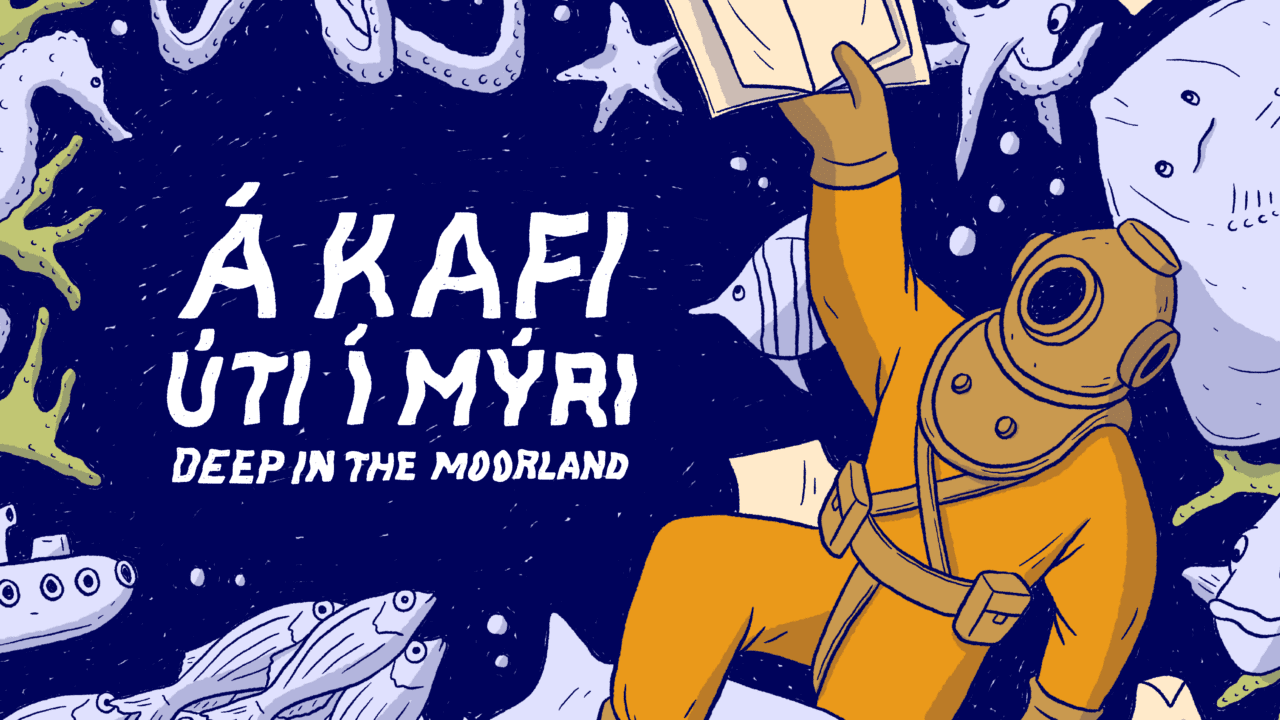 MÝRIN October 12 – Symposium
09.00
Auditorium,
Alvar Aalto &
Aino Aalto
DEEP IN THE MOORLAND: MÝRIN 2023. International Children's and youth literature festival at the Nordic House.
Entry to all events is free and registrations are made at myrinfestival@gmail.com
Full program is available at Myrin.is
Thursday October 12: Symposium
Auditorium | The seminars will be held in English unless otherwise stated
9:00 – 9:10 – THE OPENING OF MÝRIN 2023
Svandís Svavarsdóttir, Minister of Food, Agriculture and Fisheries opens the conference.
9:15 – 9:45 – READING AND INTERVIEW WITH JESSICA LOVE (US)
Author of the book Julian is a mermaid. Sólveig Ásta Sigurðardóttir, literary critic, chats with the author.
9:45 – 10:00 – COFFEE BREAK
10:00 – 11:00 – PANEL: THE SEA AND FANTASY IN PICTURES
Illustrators Anna Fiske (NO), Jenni Desmond (UK), Anais Brunet (FR) and Linda Ólafsdóttir (IS) talk about the sea and fantasy in their books. Writer Margrét Tryggvadóttir (IS) moderates the panel.
11:15 – 11:45 – READING AND INTERVIEW WITH KENT KIELSEN (GL)
Author of the book The Parliament of the Animals. The reading takes place in Greenlandic and the conversation in Danish.
12:00 – 12:30 – LUNCHBREAK
12:30 – 12:50 – THE NORDIC BOOKWORM
A project whose aim is to promote the reading of Nordic children's literature. Mikaela Wickström from Nordisk kulturkontakt in Finland presents the project.
13:00 – 14:00 – PANEL: THE SEA AND FANTASY IN STORIES
The Icelandic writers Kristín Björg Sigurvinsdóttir, Gunnar Theodór Eggertsson, Ævar Þór Benediktsson and Eva Rún Þorgeirsdóttir discuss their stories about the sea. Illustrator Nick White (UK) moderates the panel.
14:00 – 15:30 – BREAK
Participants are encouraged to make their way to Vesturbæjarlaugin swimming pool and dive into social connection Icelandic style.
15:30 – 17:00 – MASTERCLASS WITH ILLUSTRATORS
Illustrators offer insights into their creative processes and give participants short assignments. How is history made? How can the imagination be stimulated? Participants can choose between two workshops: Nick White (Alvar meeting room) and Lena Frölander-Ulf (Aino meeting room).
Registration for workshops at: myrinfestival@gmail.com
17:00 – HAPPY HOUR
Drinks offered by the French Embassy.
Accessibility: The Auditorium and bathrooms are wheelchair accessible. The children's library is accessible for wheelchairs via the Hvelfing exhibition hall and the library personel can be of asstance if needed. All restrooms are gender neutral.