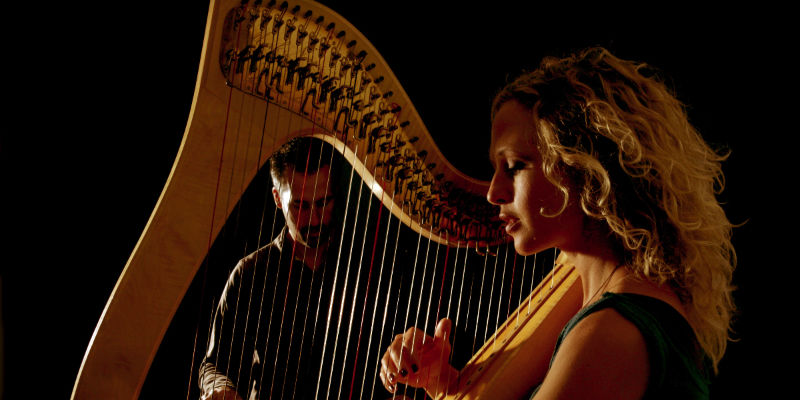 Migration, past and present Ruth Wall and Graham Fitkin
Ticket Price ISK 2,000 – 2,500
Migration, past and present Ruth Wall and Graham Fitkin present a program of folk songs and new music.
Scottish harpist Ruth Wall performs on two harps, the bell-like Gaelic wire strung harp (which has been played since the 10th Century in Scotland) and the beautiful Scottish gut strung lever harp. The theme for the concert is Migration, past and present. Ms. Wall has been investigating migratory patterns in humans, animals and landscape in the 21st Century as well as during the Highland Clearances – the largely forced emigration of peoples from the Scottish Highlands between 1750-1850. The music is multi-layered and texturally shifting.  She will play some very old folk tunes from the Scottish Highlands, Wales and Iran as well as new works by composers including Philip Glass, Steve Reich, Snorri Sigfús Birgisson, Graham Fitkin and John Cage. The starting point of the new music will be very old folk tunes from the Highlands. Composer Graham Fitkin will introduce the music and talk of the history of the music and instruments, as well as performing a couple of body percussion works with Ruth.
Ruth Wall has performed on stages around the world – at the Royal Albert Hall, Sydney Opera House, Berlin Philharmonic, Radio City New York, and as part of the London Olympics celebrations. She has featured as soloist with the London Chamber Orchestra and the BBC Concert Orchestra, and toured extensively as a soloist, and with British band Goldfrapp, piper Kathryn Tickell, Ockham's Razor and Graham Fitkin. She appears regularly on BBC Radio and features in films including 'Loving Vincent', 'Sightseers' and 'The White Queen'.
Composer Graham Fitkin has worked with Yo-Yo Ma, Kathryn Stott, Tokyo Symphony Orch, BBC Symphony Orchestra, New York City Ballet. He has won three BASCA composer awards and the Royal Philharmonic Society Composer Award 2015. He has just launched an audio mapping app for cities, in which his new musical score responds to the listener's location as they move around the city.