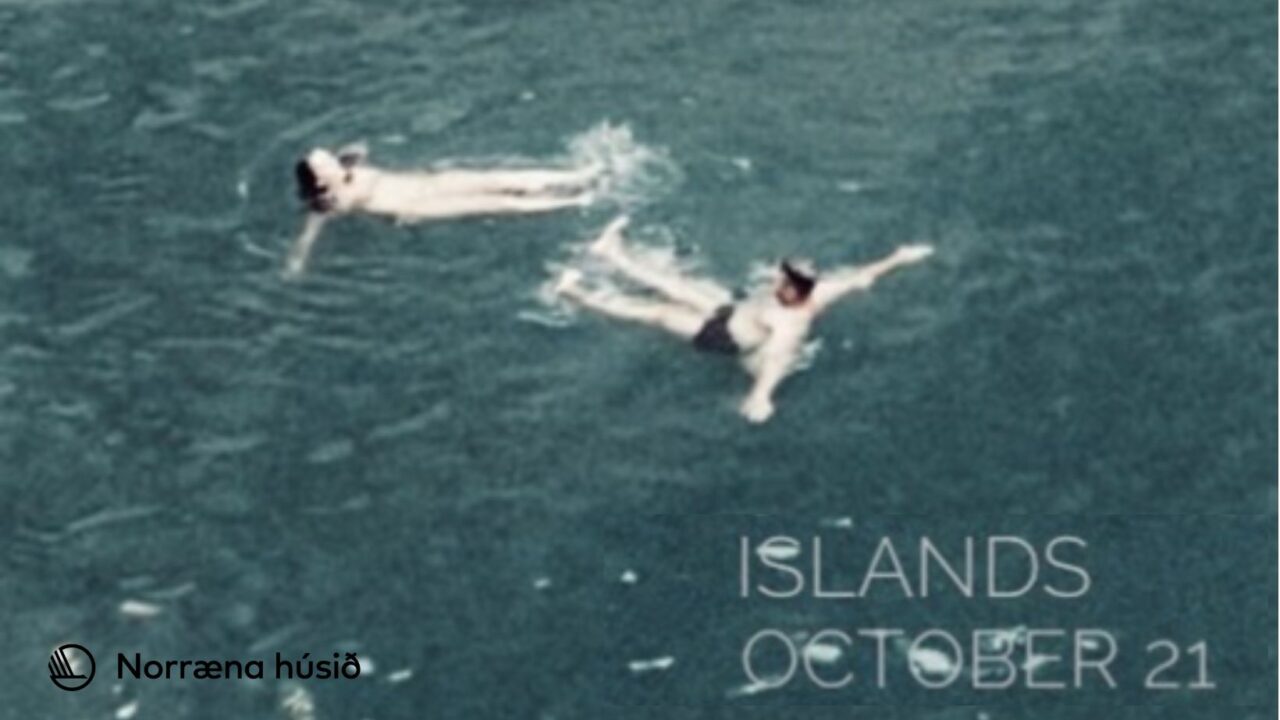 What is an island? A piece of land surrounded by sea, sure, but depending on who you ask, the island can signify a multitude of concepts – from disserted island, bounty paradise, or simply: home.
On the 21st of October, the Nordic house presents a screening of four short films, each centered around the notion of the island. The films deal with the complex cultural connotations that islands have across the world, and explore notions of isolation, belonging, mythology and everyday life.
PROGRAM
18:00 Hengam (2021), dir. Pooyan Shadpoor
SHORT BREAK
18:55 Ghost Island (2021), dir.  Lisandro Suriel
19:05 Konni (2022), dir. Thorbjorg Jonsdottir & Lee Lorenzo Lynch
19:15 SPIRITS AND ROCKS: AN AZOREAN MYTH (2020), dir. Ailyn Gökmen
About the films: 
"Hengam" by Pooyan Shadpoor

Hengam is an Iranian Island in the Persian Gulf, located south of Qeshm Island in Hormozgan province. 
The primary economic activity of people of this island is fishing, as well as tourism. 
This film is about the nature, culture and daily life of the people of Hengam. 
In this documentary, you will also see scenes from the Zar ceremony, which is one of the oldest ceremonies in this region and is a kind of shamanistic ritual.
About the director
Pooyan Shadpoor is an independent documentary filmmaker and photographer, born in Rasht, Iran, in 1982. 
He started his career as a film editor for local tv channels in 2001 and professionally started photographing in 2004 by landscape photography. Through his travels to remote locations of Iran he started making experimental documentaries.
"Ghost Island" by Lisandro Suriel.

In this cinematic chapter of Ghost Island, we intuitively make first contact with the figures of liminal spaces; spaces that are in between our post-colonial reality and the deep-seeded ancestral intuition that there is more to our past than we have been taught to believe. Ghost Island is both an interpretation of- and an ode to the shadows that dwell around us. It envisions those figures we glimpse in the corners of our eyes but can never fully see. It paints a picture of an existence both parallel and inherent to ours that we have come to doubt: the Black subconscious. The presence of these ghosts in and of themselves evokes a belief in magic that reinforces the ties to ancestral memory and alternative historiography.
This film is an invitation to engage with the imagination to challenge history and rediscover a narrative of self: Marooned on an island in a state of amnesia, all one can remember is that they are Black. In hopes to find all that is forgotten, a journey is begun to collect all the memories hidden within the Blackness of our skin. So peculiar is this phantom island and at once so familiar… it is home to all the spirits whose names forever live in our subconscious. To reclaim the fragments of a shattered memory is to reclaim a lost identity, and to rewrite the Black narrative: "Who am I? Where do I come from? Where does my story begin?
About the director
Lisandro Suriel earned his Bachelor's degree in Photography at the Royal Academy of Art in The Hague and received his Master's of Art by research in Artistic Research at the University of Amsterdam. Lisandro Suriel's work has been published worldwide and featured in numerous exhibitions, most recently at Photo Basel and the 6th edition of Photo Vogue Festival Reframing history in Milan where he was the recipient of the Photo Vogue/Studio RM Prize for his short film Ghost Island. In 2021, he was selected by FOAM magazine's Talent issue as one of 20 outstanding photographers.
"Konni" by Thorbjorg Jonsdottir & Lee Lorenzo Lynch.
An intimate 16mm portrait that documents a day in the life of Konni, the last child inhabitant on a remote island in the arctic circle that boasts a population of only 16 people.

North of Iceland lies the island of Grímsey. Straddled by the arctic circle, it is the northernmost inhabited part of the country. The island measures 5.3 square kilometers and is a 3 ½ hour ferry ride from the mainland. The year-round population is only 16 people. Currently only one child lives on the Island, a 6 year old boy named Konni.
Raised in Redding, California, Lee Lorenzo Lynch (1980) has been making films since the age of 13. He holds a BFA in Film from California Institute of the Arts and an MFA in Fine Art from the USC. His films have been shown at galleries and film festivals such as Sundance, FIDMarseille, International Film Festival Rotterdam, Full Frame, The Viennale and Tribeca, Steve Turner gallery in LA and MOCA.
Thorbjorg Jonsdottir is a filmmaker and video artist from Iceland who holds an MFA degree in filmmaking from California Institute of the Arts and a BA in visual arts from the Iceland University of the Arts. Her films and video works contemplate ethnographic narratives via abstract formalism, discerning preternatural states where oral-mythology and landscapes collide. Thorbjorg's films have screened in galleries and the film festival circuit in Europe, Asia and the United States. Her recent short documentary "A tree is like a man" (2019) premiered at CPH:DOX where it competed in the NEXT:WAVE section.
"SPIRITS AND ROCKS: AN AZOREAN MYTH by Ailyn Gökmen.

From the ocean, a volcanic island rises into steamy mist. The black rock of the earth stands in sharp contrast to the billowing vapor that hovers and drifts above the surface. A narrator describes how the island's first inhabitants sought to explain the violent eruption by attributing the devastation to the wrath of angry gods. With breathtaking black-and-white cinematography, this poetic exploration considers the human relationship to this volatile land, where residents live alongside the looming threat of eruption with reverence, fear, and awe. A collection of scenes where dark and light miraculously coexist illuminates both the physical and spiritual landscapes of this extraordinary place, where life endures the perils of the natural world. – Full Frame Documentary Film Festival
About the director
Aylin is a Swiss-Turkish filmmaker whose work combines documentary, fictional and experimental approaches, often revolving around themes of memory, imagination and landscape. Her short film SPIRITS AND ROCKS: AN AZOREAN MYTH (2020) has been screened internationally including Sundance, Locarno, and Telluride.