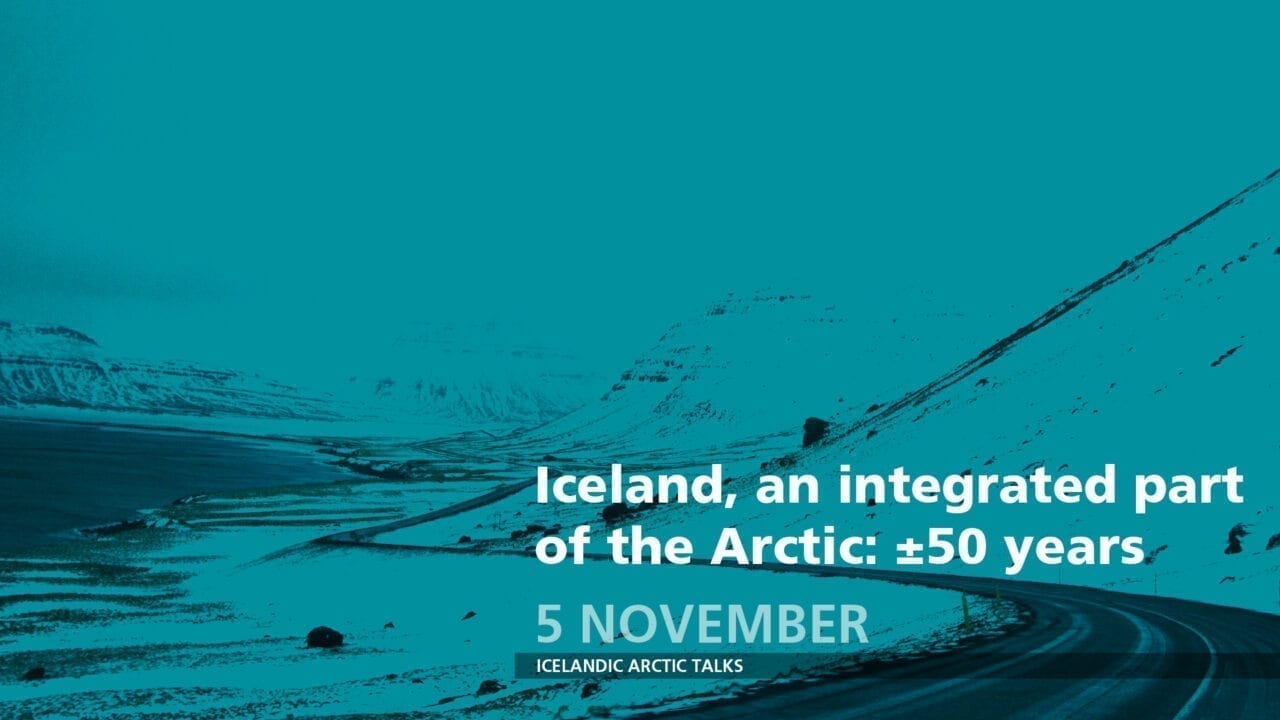 Icelandic Arctic Talks II: Iceland, an integrated part of the Arctic: ± 50 years
Icelandic Arctic Talks II
The Centre for Arctic Studies at the University of Iceland, the Icelandic Arctic Cooperation Network and the West Nordic Council in collaboration with the Nordic House, the Icelandic Chairmanship of the Arctic Council and the Arctic Circle have organized a series of online discussions, taking place in the fall of 2020, on key Arctic issues highlighted by the Icelandic Chairmanship of the Arctic Council. The Icelandic Arctic talks build on the work and experience of Icelandic organizations and institutions on issues concerning societies, cooperation, health, and energy in the Arctic. Join us in the discussion!
Iceland, an integrated part of the Arctic: ±50 years
The second discussion of the Icelandic Arctic Talks, Iceland, an integrated part of the Arctic: ±50 years, in collaboration with Rannís, will take place 5 November at 13:00-14:30 GMT.
Location: Online.
The event will take place in English.
You can follow the discussion by watching the livestream on the top of this page, by watching the livestream in our Facebook-event, or you can register as a participant in the Zoom webinar by following this link.  
As an island in the North Atlantic, between the cold temperate and Arctic climate zones, Iceland can in many ways be considered a canary in the coalmine for climate change effects. The aim of this discussion is to bring awareness to the diverse Arctic Circle community about the wide-ranging impact climate change has had on Iceland in the last 50 years and to make predictions for changes expected in the next 5 years.
The discussion will be in the form of six short lectures highlighting different effects of climate change in Iceland followed by an overview of Arctic research in Iceland.
The Climate – Past climatic changes in Iceland and outlook for the coming century.
– Dr. Halldór Björnsson 
The Cryosphere – Mass balance of Icelandic glaciers in the 20th and 21st century.
– Prof. Guðfinna Th. Aðalgeirsdóttir
The Ocean – Large-scale changes and marine ecosystems around Iceland.
– Dr. Hrönn Egilsdóttir. 
The Land – Terrestrial ecosystems in Iceland, recent past, the present and predictions of the near future.
– Dr. Starri Heiðmarsson.
The Freshwater – Icelandic freshwater diversity in space and time.
– Prof. Bjarni Kr. Kristófersson. 
The Humans – Reflections on Icelanders and Arctic Research in the Anthropocene.
– Dr. Catherine Chambers and Dr. Níels Einarsson. 
Rannís – overview of Arctic research in Iceland, including international collaboration and funding opportunities for scientists focusing on the Arctic.
– Egill Níelsson, Senior Advisor The Icelandic Centre for Research.
Moderators: Dr. Anna H. Ólafsdóttir and Dr. Jón S. Ólafsson