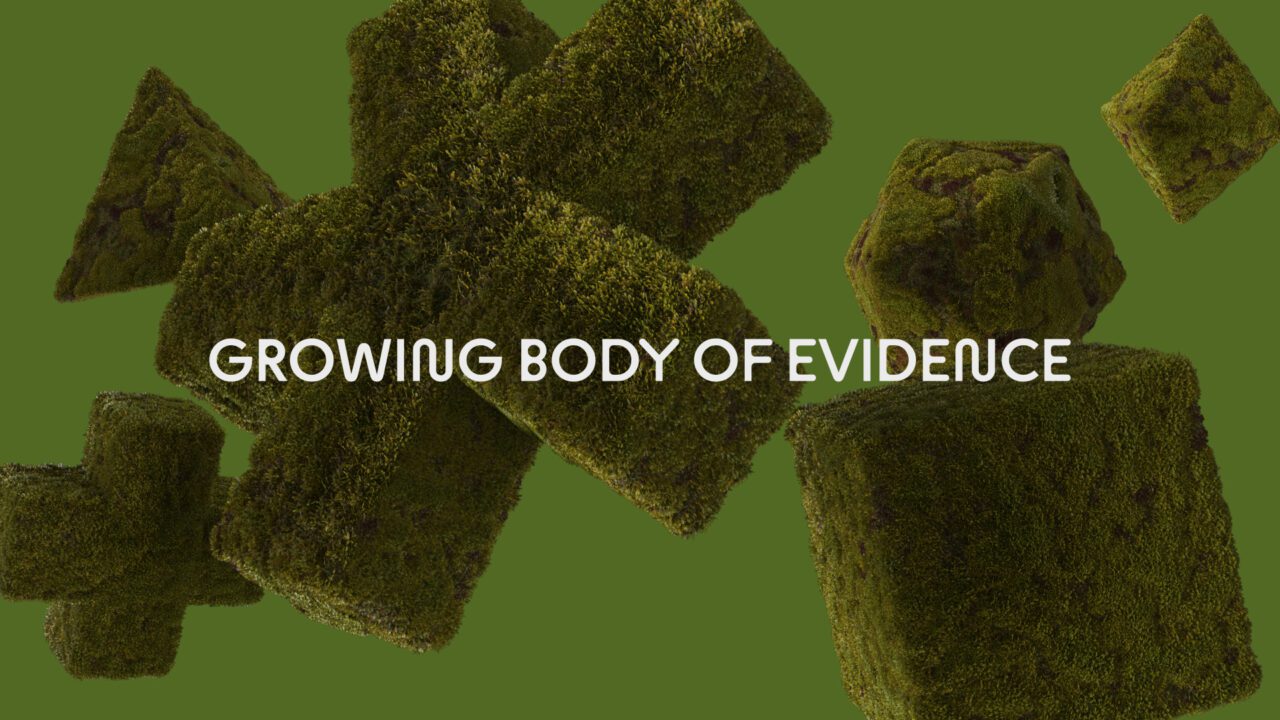 In this exhibition, artists Aneta Grzeszykowska, Colette Sadler and VARNA reflect on aspects of corporeality, artificiality, and the human body as a harbinger and carrier of knowledge. Deconstruction of identity, physical memory and reclaiming of embodied practices are themes running through the exhibition in reflections on the intricate accumulative knowledge present the human body and its relation to the self, historicity and the spiritual. Within the space we navigate fragmented reminiscences of archaic, present and future archaeologies of being. 
Curated by: Arnbjörg María Danielsen (IS)
Part of the collaborative project: Goethe Morph* Iceland, how we always wanted to have lived, with the Goethe Institute.
MODEL

,

2017


Six framed photographs, digital print, 100

X

140

cm


ANETA GRZESYKOWSKA (PL)
In this series of large-format photographs, the artist brings her double to life. The effigy manufactured by a specialist firm is a faithful copy of her head and torso on a 1:1 scale. Grzeszykowska documents the process of applying makeup, eyelashes and eyebrows, and the framing and reduced distance create the illusion of confronting a real person. 
The intimate character of these portraits and the natural lighting allude to the tradition of painterly representation. At the same time, the series is a further transgression of self-portrait conventions and another attempt by Grzeszykowska to liberate herself from her own body — symbolically dividing identity from its physical medium. Alluding to her earlier photo series, the artist probes the creative possibilities of this medium. Here photography is used in an exceptionally suggestive manner to create artificial life, a person who lives only in pictures.
Courtesy of the artist and Raster Gallery Warsaw.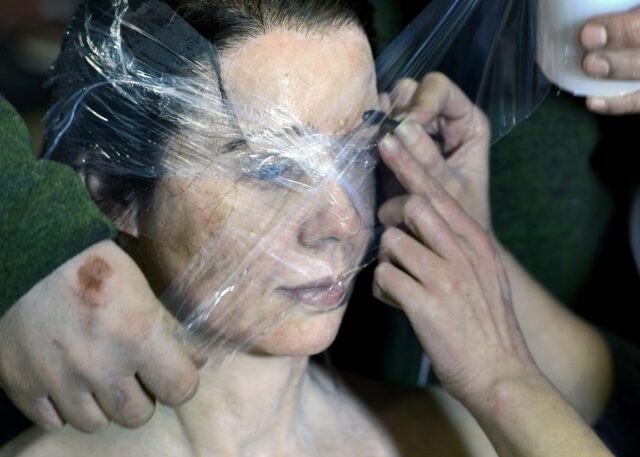 ARK 1 –

Towards a Future Archeology

, 2021


Performance/installation, mixed media


COLETTE SADLER (DE/UK)
ARK 1 explores the precarious futures of human culture amid the life-altering interventions of artificial intelligence and ecological crisis. Expanding upon the original video and performance installation premiered at Tanz Im August International Dance Festival Berlin 2021, this exhibition proposes an archaeology of the future that questions: how will the history of humanity be archived, remembered, and technologically retrieved in the aftermath of coming catastrophes?  
After eons had passed, ARK 1 was finally detected by an intelligent life form that salvaged an assemblage of deteriorating data from the ancient ship. With no knowledge of life on Earth, they created a cosmic archeological record of Earth's post-human remains.
Set in the future, a fictitious bio-technology corporation VESSELS INC created the spaceship "ARK 1" to preserve the distant memory of human life. As Earth's resource depletion and degraded ecosystems threatened human extinction, VESSELS INC launched ARK 1 into deep space equipped with the technology for sustaining artificial life. Onboard, an algorithm digitally reconstructed the dancer Leah Marojevic to preserve the muscle memory of human experience. 
After eons had passed, ARK 1 was finally detected by an intelligent life form that salvaged an assemblage of deteriorating data from the ancient ship. With no knowledge of life on Earth, they created a cosmic archeological record of Earth's post-human remains.
Credits:
Presented in the context of Goethe Morph* Iceland, with the support of the Goethe-Institut and Nordic House Reykjavik. Alongside the original performance and video installation, this new exhibition commissioned for Goethe Morph Iceland contains visual arts works made by Sadler and in collaboration with artists Mikko Gaestel and Valentin Hertweck.
Exhibition design by Valentin Herweck.
Performance Credits:
Artistic Direction, Video and Choreography: Colette Sadler
Video Design, direction and installation: Mikko Gaestel
Performance: Leah Marojevic
3D Animation and design: Alexander Pannier
Text: Colette Sadler in collaboration with an Artificial Intelligence GPT-2
Dramaturgical Support: Alan McKendrick
Costume design: Colette Sadler /Theo Clinkard
Sound:Samir Kennedy, Mikko Gaestel & Heiko Tubbesing
Video voice over by Alicia Matthews
Funded by: Nationale Performance Netz "Stepping Out" Fund, funded by the federal Goverment Comissioner for Culture and Media within the framework of the initiative "Neu Stadt Kultur"Assistance Program for Dance with additional investment from CREATIVE SCOTLAND open fund. Re-sidencies supported by The Work Room Glasgow,Tanzhaus NRW and Fabrik Potsdam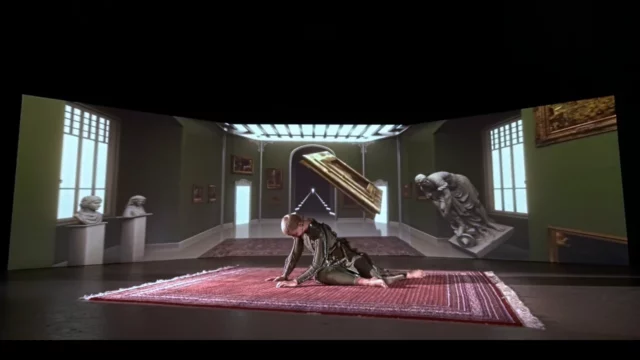 OQILIALLANNEQ / RELIEF, 2022
Video-installation, 17 min


VARNA (GL)
The work OQILIALLANNEQ / RELIEF by  Greenlandic artist VARNA is a multi-layered examination of the complexities of reconciling an internal lived process of restoring spiritual Inuit practices after colonial oppression with a reality of still ongoing systemic repression. Within a lucid dreamscape the work juxtapositions personal and historical fragments of sounds with imagery that toils with stereotypical notions of Inuit identity in exaggerated form, drawing on the metamorphic aesthetics and character of East Greenlandic mask dancing:  A form of entertainment traditionally intended to stir up feelings of instability and  uncontrolled emotions  of uncertainty, fear, embarrassment or euphoric joy in the receiving audience. This was practiced in order to come to terms with one's emotional weaknesses, a crucial skill for surviving in the extreme Arctic environment .

The museal visual setting of the work is a projection into a dystopian ambivalent time where the stagnated western institutional modes of preserving intangible culture has rendered the living spiritual practice of Greenlandic drum dancing as mere objects and relics of the past. Fossilized in artificial stagnation. In contrast to the visual world the sound world of the work offers a living physical dimension of reconnection with the fluid and intuitive ancestral heritage. Where the body and drum become a unified open channel of relief.
Credits:
VARNA, drum, vocals, concept
Salka Valsdottir, sound design and production
Arnbjörg María Danielsen, video direction
Anders Berthelsen, cinematography
Blair Alexander, video editor
Henrik Suersaq, costume design
Katinnguaq Heilam Jensen, makeup
Nini Karo Aviaaja Kleist, hair
Ivana Sakariassen Knudsen, camera assistant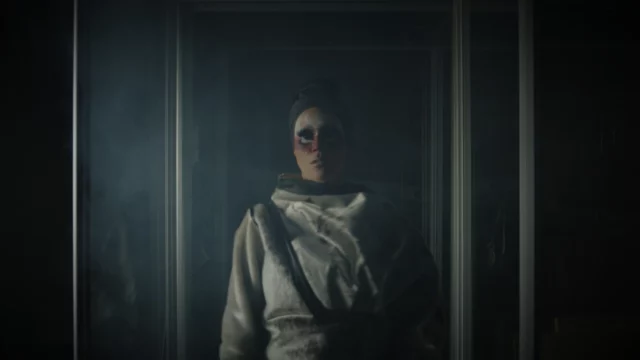 SCHEDULE

10th september
OPENING
Art Exhibition
Location: Hvelfing
Time: 18:00
Opening Performance
ARK 1 – Colette Sadler: 18:30 & 19:30
11th September
GROWING BODY OF EVIDENCE
Open from 10–17
Performances
ARK 1 – Colette Sadler: 15:00 & 16:00
12th September – 18th December 2022
GROWING BODY OF EVIDENCE
Open 10–17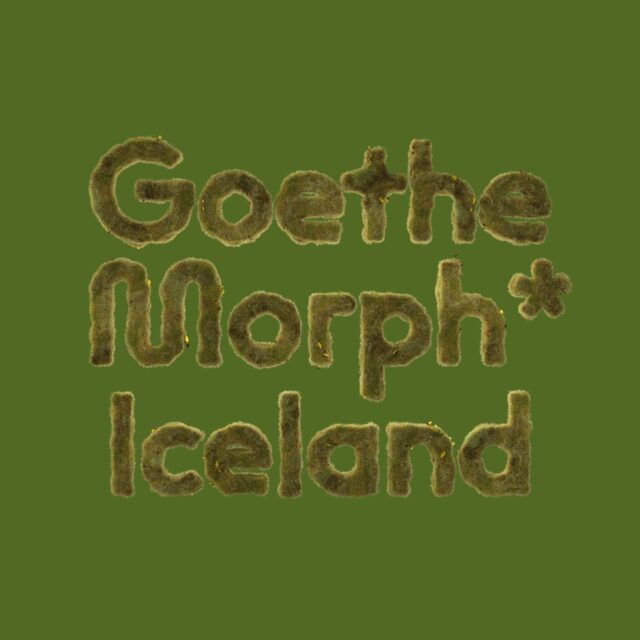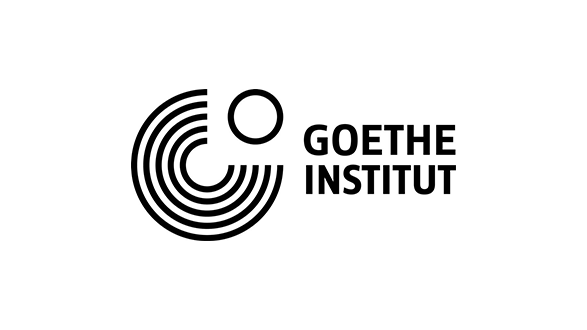 Coverphoto from the series Model by Aneta Grzeszykowska