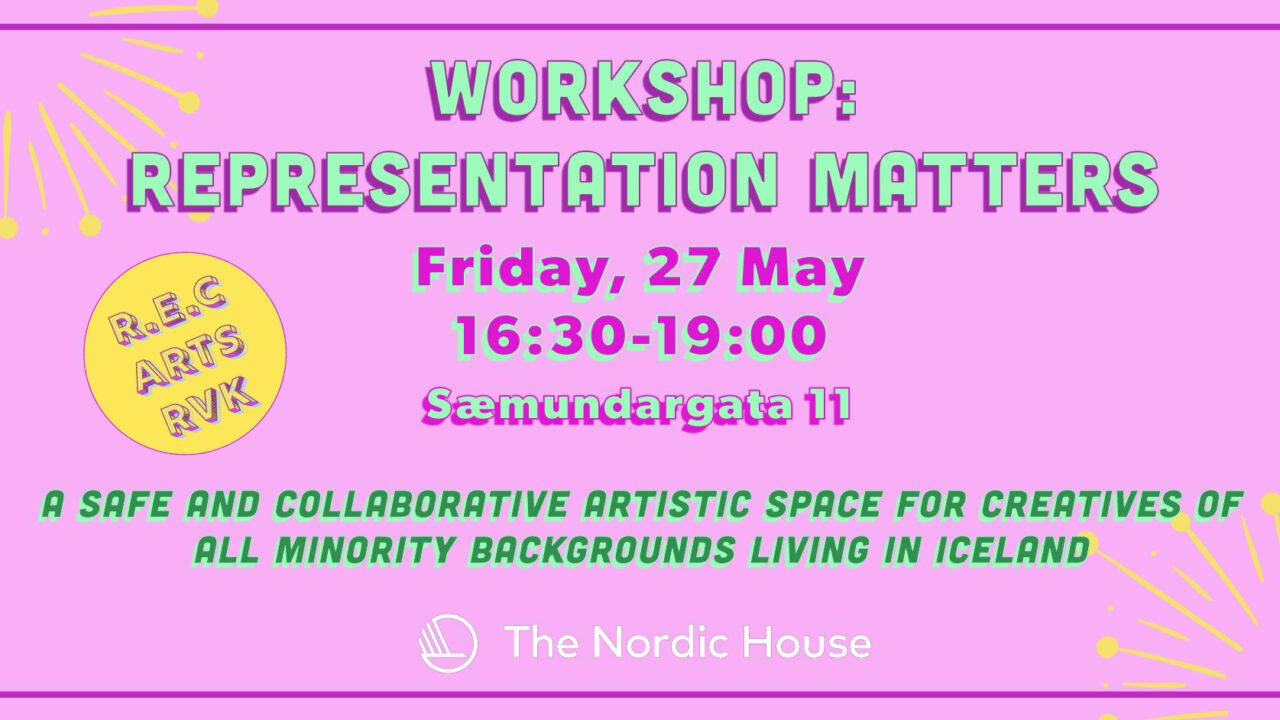 WORKSHOP by R.E.C. Arts Reykjavík
WORKSHOP by R.E.C. Arts Reykjavík

Friday 27th may.
16:30 – 19:00
Free – sign up required.
R.E.C Arts Reykjavík is an artist collective/creative team aiming to bring diversity, visibility, access and representation of minority groups to the mainstream Icelandic art scene (theatre, dance, music, art, etc). They host educational & creative workshops and discussions which create a safe and empathetic artistic space for people of all minority backgrounds living in Iceland (POC, LGBTQIA+, Disabled, Immigrant, Refugee, etc). It was founded in late 2021 by Rebecca Hidalgo, Eva Björk and Chaiwe Sól. R.E.C Arts Rvk works with people on all places of the "artist" spectrum- from professional artists to aspiring/developing artists to those who just want to learn and have a story to tell. "We want to create change by building a larger platform for minority voices and stories to be heard and seen, and to educate the mainstream on why these changes are important and necessary in building a better community for us all."
As always, workshops by R.E.C. Arts Reykjavík are FREE!
Our workshops are a safe artistic space for creatives of all minority backgrounds living in Iceland. We encourage empathy through storytelling and collaboration.
Want to share any work-in-progress art piece with us? Performance, song, dance, writing, visual art piece, etc…let us know! Not only is it an educational workshop, but an open platform for sharing and workshopping your creations.
Sign up by clicking the link below. And don't hesitate to ask any questions ❤️