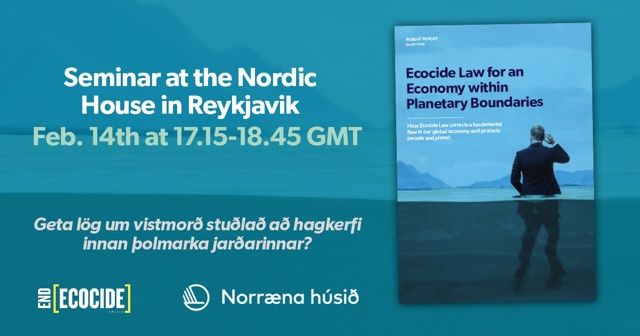 Ecocide Law for an Economy Within Planetary Boundaries
Can ecocide laws contribute to the economy within earth's sustainable limit?
The European Council has just called on member states to "criminalise and effectively prosecute ecocide" and to take "concrete steps to amend the Rome Statute of the International Criminal Court in order to add ecocide as a new crime."
Ecocide means the mass destruction of nature. An international crime covers only most harmful activities, so the number of people who could potentially be held accountable is tiny, but the harm they cause is great.
HERE ARE A FEW OF THE MANY BENEFITS OF MAKING ECOCIDE A CRIME.
IT HELPS:
promote long-term economic stability and global security
protect biodiversity
prevent some illegal activities linked to organized crime
reaching the Paris Agreement
protect human health.
Find out more on February 14th, at 17.15-18.45 GMT at the Nordic House, Reykjavík.
Light refreshments will be served.
SPEAKERS AND PANEL:
Helga Hvanndal Björnsdóttir, member of Nordic Youth Biodiversity Network.
Lilja Björk Einarsdóttir, CEO of Landsbankinn.
Kristín Vala Ragnarsdóttir, Professor of Earth Sciences at the University of Iceland.
Jonas Roupé, Strategist at Prosperous Planet AB, and one of the world's leading experts in the strategic importance of international Ecocide Law.
Sigurður Örn Hilmarsson, Supreme Court attorney and chairman of the Icelandic Bar Association.
Moderated by lawyer Katrín Oddsdóttir.
Jonas Roupé and Kristín Vala Ragnarsdóttir have recently published two research reports: "Ecocide Law for the Paris Agreement" and "Ecocide Law for an Economy within Planetary Boundaries".
Proposed definition of ecocide as an international crime.
The seminar is in english and is organized by the Nordic House and End Ecocide Sweden.