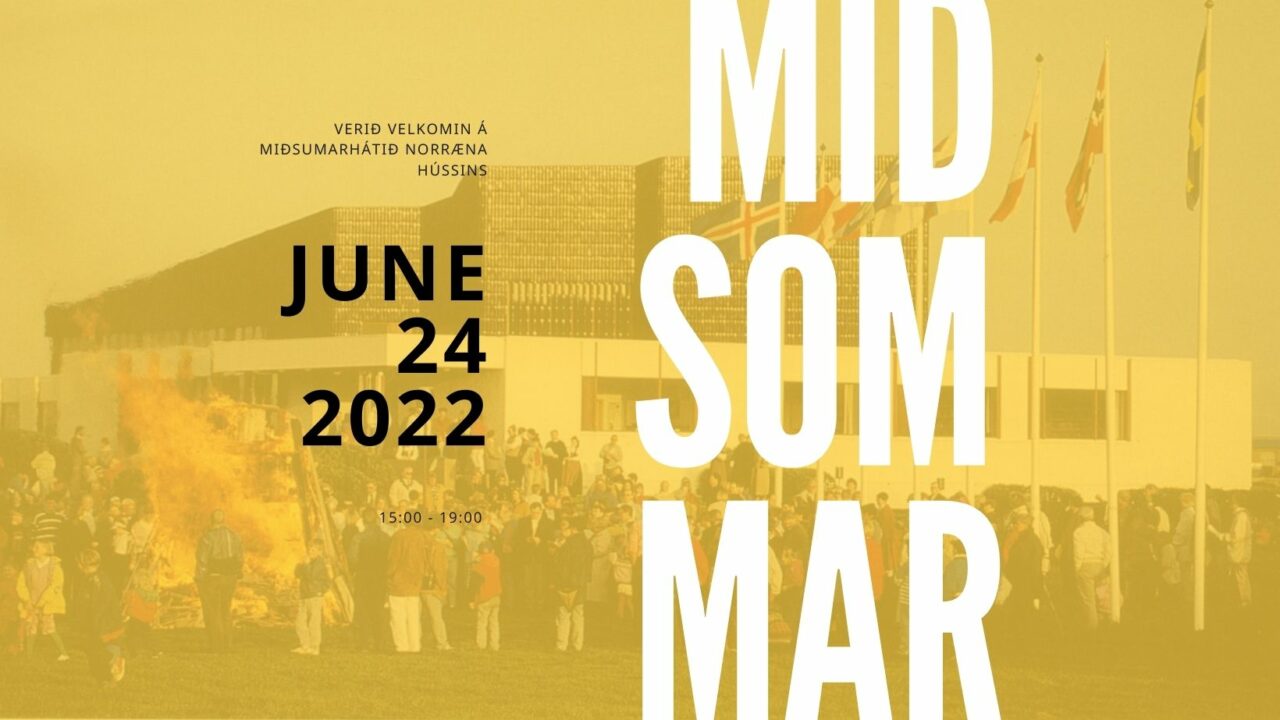 MIDSOMMAR at the Nordic House
15:00 - 19:00
Library,
Hvelfing,
Greenhouse,
Boardwalk &
Pavilion
Free entry
 We warmly welcome you to celebrate Midsummer Festival with us on 24th of June 15:00-19:00. 
The day is filled with fun activities, flowers, music, and much more for both children and adults.  
 Sónó Restaurant will serve delicious food and refreshing drinks for purchase. 
 Program: 
15:00 – 17:00
Create and wear your own flower wreath 
Welcome to our floral workshop. We will make our own wreaths using local flowers and plants from our surroundings.

Teachers from the Latvian School in Reykjavík will be in charge of teaching how to make handmade flowercrowns from wild Icelandic flowers through out the festival.
Making flower crowns is also a Latvian tradition related to midsummer that is called Jāņi in Latvian. The celebrations include a great many ancient practices, including decorating the home with ferns, fragrant grasses, and freshly picked flowers, singing special solstice songs, lighting bonfires, and preparing traditional foods. Midsummer was originally a pagan agricultural festival that existed long before the arrival of Christianity in the Baltics, but the traditions associated with it remain immensely popular to this day.

(location: Greenhouse) 
10:00 – 17:00
Book sale in the library 
Don´t miss our book sale – all books cost 1000kr a piece. The sale will run till 26th of June. 
15:00 – 15:30
EIDER GYM
 
Inspired by our Eider and Farmer exhibition in Hvelfing, artist Hanna Jónsdóttir invites everybody to a fun class of Eider Fitness on the boardwalk by the lake. 
15:30 – 16:30
STORYHOUR
Storytelling in Icelandic for children (8-12 years) by children's authors Arndís Þórarinsdóttir and Gunnar Helgason in our pavilion. 
(location: Pavilion or inside if it rains) 
16:30 – 17:15
Live music, Pavilion 
Dance into the midsummer night with SAKARIS.  
Since his debut album in 2012, this Faroese electro artist has made a name for himself as the purveyor of quirky, melodic, and catchy alternative pop music. On stage, the keytar wielding SAKARIS charms the audience with woefully unscripted stage banter and down-to-earth presence – before blasting into earworm after earworm! 
17:30 – 19:00
Music, Pavilion
We will end the night with DJ KJÖRK in our Pavilion.
Kjörk is a Reykjavík based DJ that plays a mix of upbeat house music from the southern hemisphere. Having dreamt of standing behind the dj-decks since she was a kid, Kjörk is dedicated to playing beats that spark joy and get people moving. 
And as always our exhibition in Hvelfing, EXPERIMENT: EIDER AND FARMER is open 10:00 – 27:00