Berättarcirkeln är ett gemensamt projekt mellan Reykjavik stadsbibliotek och nätverket för kvinnor med multikulturell etnicitet på Island, W.O.M.E.N in Iceland.
Å 2020 har berättarcirkeln träffats fem gånger för att andas, sjunga, njuta av poesi och för att tova. I dessa verkstäder uppmuntrades deltagarna att fokusera på här och nu, att finna frihet och glädje i att skapa och i att anknyta till andra kvinnor med utländsk och isländsk bakgrund. På grund av språkliga och sociala barriärer har kvinnor och speciellt kvinnor med immigrantbakgrund ofta problem med att uttrycka sig och bli sedda och berättarcirkeln ska fungera som ett safe space. Verkstädernas tema var Paradisfåglar – ett symboliskt sätt att ge uttryck för inre skönhet, personlighet och diversitet. Verkstädernas resultat visas i Nordens hus' växthus under perioden 13.9-4.10.2020.
Utställningen öppnas på söndagen den 13.9 kl. 13.30-15.30. Den kommande säsongens program kommer att presenteras. Alla är välkomna till att njuta av fågellivet i Vatnsmýrin. Covid restriktioner beaktas.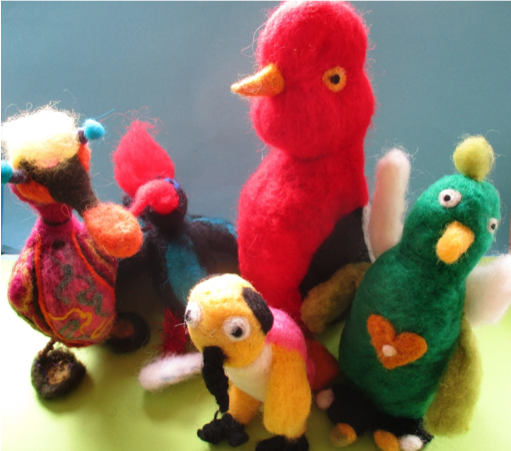 W.O.M.E.N in Iceland was founded in 2003 by women of foreign origin living in Iceland who wanted to give immigrant women a voice and a just place in society. The organization aims to unite, express, and address the interests and issues of women of foreign origin in order to bring about their equality as women and as foreigners, in all areas of society.
W.O.M.E.N in Iceland has various projects aimed at empowering immigrant women and creating a safe space for them to express and discover themselves in their new society.  The Women's Story Circle is one of these projects. It is a cooperation between the Reykjavik City Library and W.O.M.E.N in Iceland. Women from all parts of society are invited to connect in a relaxed atmosphere through creativity and educational events. All women are welcome to join.
W.O.M.E.N is a non-profit, non-governmental organization that is run by volunteers and depends solely on grants and private support to continue their work. More information on the organization and its work can be found on our website, www.womeniniceland.is