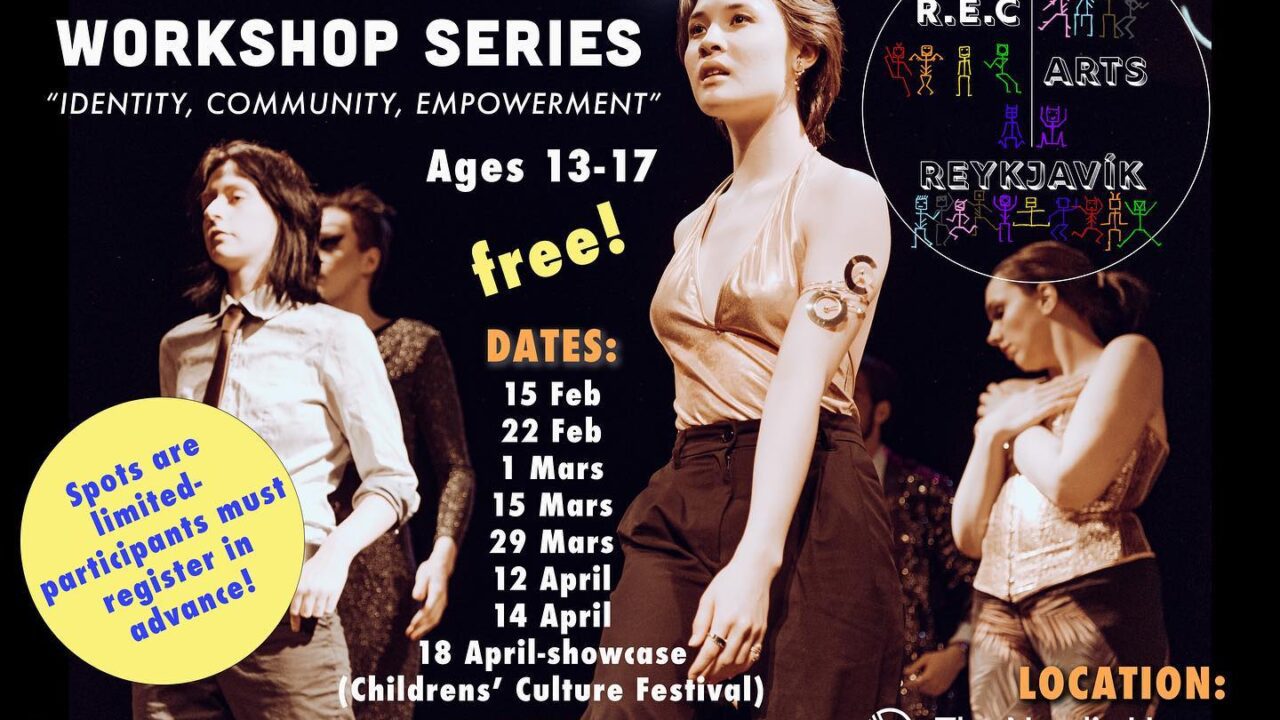 Open for registration – Artistic Workshops for Youth
Artistic Workshops for Youth hosted by R.E.C Arts Rvk & The Nordic House: Identity, Community & Empowerment 
Are you a teen (age 13-17) from a minority background, identity or community? Do you want a space to share openly about your experiences, connect, and create artistic works in a space made by and for people like you?
Artist-activist collective R.E.C Arts Reykjavík, in collaboration with The Nordic House, is hosting a series of free creative workshops beginning on Wednesday/ Miðvikudagur February 15th, 2023. They will end with a "showcase" performance & presentation on Tuesday/Þríðjudagur, April 18th 2023 (opening the Children's Culture Festival at the Nordic House in Reykjavík)
Workshops will focus on themes of: Identity, Community & Empowerment.
When? They will take place on Wednesday evenings (dates below)
Where? The Nordic House (Sæmundargata 11, 101 Reykjavík)
What will we be doing? This series will include artistic exercises guided by the team and guest instructors from the collective. Using communal discussions and different formats of storytelling (theatre, music, poetry, dance, writing, drawing, design and more), young people will be encouraged and empowered to have a voice and place in our society. We will elaborate on skills that the participants already have or would like to pursue.
How much does it cost? Participation is FREE! Scroll down for the registration link!
*No previous artistic or performance experience is required
*"Minority background" includes people of color, disabled people, LGBTQIA+, people of immigrant backgrounds or with refugee status.
The workshops are also welcome to all youth ages 13-17 who would like to further educate themselves and become better allies.
Time & Dates:
All workshops will take place from 17:00-20:00 at the Nordic House on the following dates:
15 Feb 
22 Feb
1 Mar
15 Mar
29 Mar
12 April
14 April (*Friday/Föstudagur – "rehearsal" for showcase)
18 April (Tuesday/Þriðjudagur) – showcase-time will be announced
Who are we?
R.E.C Arts Reykjavík was founded in late 2021 by Rebecca Hidalgo, Eva Björk and Chaiwe Sól Drífudóttir. We aim to bring diversity, visibility, and representation to the mainstream arts scene in Iceland through equity, access and education. We are a recognized Non-Governmental Organization, and have worked both independently and in collaboration with various organizations. We are all working professionals in the arts and education, and our collective consists of people of all ages, professions and backgrounds. We have worked with both adults and youth, hosting workshops which bring individuals from different minorities together (and those whose identities may intersect multiple marginalized communities). They are known for creating a space of learning, growth, empathy and understanding; building confidence in each individual they work with; and providing a safe community for self expression and education.
"We, the founders of R.E.C Arts Reykjavík, all intersect multiple identities of both marginalization and privilege living in Icelandic society. Our motto is 'Representation Matters'—and representation is extremely important for young people to feel a sense of purpose, belonging and agency in the world and their societies. Whether or not these youth have a desire to pursue the arts professionally, they should be offered an opportunity to explore the arts and cultivate their creativity in an environment amongst those like them. The plan is to create a place where everybody belongs in their own authentic way; and more-so, they know that they are an important part of a community."
TO REGISTER: 
Please follow this link to register for the program:
https://forms.gle/z86yHjdhkvtXXYV78
Important notes on accessibility, commitment, & other:
*Note that the program is cumulative, and we expect a commitment to attend every workshop (unless for illness or emergency reasons)
*All spaces we will be working are wheelchair accessible
*The capacity is limited to 20 participants, however we will have a wait-list
*The workshops will be held predominantly in English, however, we speak multiple languages amongst us hosts and instructors, and aim to provide a place where participants can communicate in the language that best suits them. The artistic works made during our workshops can be in any language, and we encourage language exchange throughout 🙂
*The Nordic House is accessible by public transportation. If any participant is in need of financial support with bus fare in order to attend, The Nordic House will arrange to cover bus transportation fees.
*Snacks will be provided at these workshops- please let us know in the registration form if you have any severe allergies we should know about.